verb
The definition of irritate is to aggravate or annoy, or to cause itchiness, inflammation or discomfort in or on the body.

When you annoy someone, this is an example of a time when youirritate them.
When a sweater causes you to itch and causes your skin to become red, this is an example of when your sweaterirritates the skin.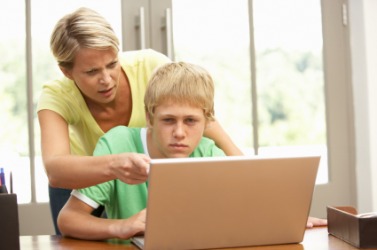 Mom is irritating her son.
---
irritate definition by Webster's New World
transitive verb
irritated, irritating
to excite to anger; provoke; annoy; exasperate
to cause (an organ or part of the body) to be inflamed or sore

Physiol.

to excite (an organ, muscle, etc.) to a characteristic action or function by a stimulus
Origin: ; from Classical Latin irritatus, past participle of irritare, to excite, stimulate, irritate ; from ir-, in- plush Indo-European base an unverified form erei-, to excite, agitate from source roam
Webster's New World College Dictionary Copyright © 2010 by Wiley Publishing, Inc., Cleveland, Ohio. Used by arrangement with John Wiley & Sons, Inc.
---
irritate definition by American Heritage Dictionary
verb
ir·ri·tat·ed
,
ir·ri·tat·ing
,
ir·ri·tates
verb
, transitive
To rouse to impatience or anger; annoy: a loud bossy voice that irritates listeners. See Synonyms at annoy.
To chafe or inflame.
Physiology To cause physiological activity or response in (an organ or tissue), as by application of a stimulus.
verb
, intransitive
To be a cause of impatience or anger.
Origin: Latin irrītāre, irrītāt-.
Related Forms: