bug

Bug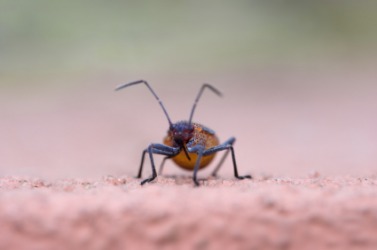 A close up of a bug.
noun
The definition of a bug is an insect or a defect in something.

An example of bug is a beetle.
An example of bug is something that keeps a computer program from working correctly.
verb
Bug is slang meaning to annoy someone.

An example of bug is a child asking their parent if they're there yet over and over again during a long road trip.
---
bug
any of an order (Hemiptera) of insects with sucking mouthparts and with forewings thickened toward the base, as a water bug or squash bug
any small arthropod, esp. if regarded as a pest, as a louse, cockroach, or centipede
a defect or imperfection, as in a machine or computer program: somewhat informal when used outside of a computer context

Informal

any microscopic organism, esp. one causing disease; germ or virus

Informal

a tiny microphone hidden to record conversation secretly

Slang

an enthusiast or devotee: often used in comb.: a shutterbug pursues photography as a hobby
a particular enthusiasm or obsession

Slang

a small, compact automobile

Origin of bug

from the asterisk (thought to resemble a bug) placed beside the apprentice jockey's name on a racing program

Slang

the weight allowance (5 pounds, or 2.3 kg) granted to an apprentice jockey for one year after the riding of five winners
Origin of bug
probably from bug
transitive verb
bugged

,

bug′ging
Informal

to hide a microphone in (a room, etc.), as for recording a conversation secretly

Slang

to annoy, bother, anger, etc.
to confuse or puzzle
Slang
to bulge or open wide, as in amazement: said of the eyes
bug off
Slang
to stop annoying someone and leave
bug out
Slang
to run away; desert
Obs.
a bugbear; hobgoblin
Origin of bug
Middle English
bugge
, akin to Norwegian dialect, dialectal
bugge
: see big
Bug
river in S Ukraine, flowing southeastward into the Black Sea: 530 mi (853 km)

river in W Ukraine, flowing northwestward into the Vistula near Warsaw and forming part of the border with Poland: 500 mi (805 km)
---
bug
noun
a. An insect having mouthparts used for piercing and sucking, such as an aphid, a bedbug, or a stinkbug.

b. An insect of any kind, such as a cockroach or a ladybug.

c. A small invertebrate with many legs, such as a spider or a centipede.

a. A disease-producing microorganism or agent: a flu bug.

b. The illness or disease so produced: took several days to get over the bug.

a. A defect or difficulty, as in a system or design.

b. Computers A defect in the code or routine of a program.

An enthusiasm or obsession: got bitten by the writing bug.
An enthusiast or devotee; a buff: a model train bug.
An electronic listening device, such as a hidden microphone or wiretap, used in surveillance: planted a bug in the suspect's room.
verb
bugged, bug·ging, bugs
verb
intransitive
To grow large; bulge: My eyes bugged when I saw the mess.
verb
transitive
a. To annoy; pester.

b. To prey on; worry: a memory that bugged me for years.

To equip (a room or telephone circuit, for example) with a concealed electronic listening device.
To make (the eyes) bulge or grow large.
Phrasal Verbs:
bug off
Slang
To leave someone alone; go away.
bug out
Slang
To leave or quit, usually in a hurry.To avoid a responsibility or duty. Often used with
on
or
of:
bugged out on his partners at the first sign of trouble.
Origin of bug
Perhaps alteration
(
influenced by
obsolete
bug
hobgoblin
; see
bugbear
. )
of
Middle English
boude, budde
beetle, weevil
from
Old English
-budda
as in
scearnbudda
dung beetle
Low German dialectal
budde
louse
Related Forms:
Bug
also Western Bug A river of eastern Europe rising in southwest Ukraine and flowing about 770 km (480 mi) through Poland to the Vistula River near Warsaw.
also Southern Bug A river of southern Ukraine rising in the southwest part and flowing about 853 km (530 mi) generally southeast to the Black Sea.
---
bug

Noun
(plural bugs)
(colloquial) Any insect, arachnid, or other terrestrial arthropod that is a pest.

These flies are a bother. I'll get some bug spray and kill them.

Various species of marine crustaceans; e.g. a Morton Bay bug.
A problem that needs fixing, especially in computing.

The software bug led the computer to calculate 2 plus 2 as 5.

A contagious illness; a bacterium or virus causing it

He's got the flu bug.

An enthusiasm for something; an obsession

I think he's a gold bug, he has over 10,000 ounces in storage.
to catch the skiing bug

An electronic intercept device

We installed a bug in her telephone

A small and and usually invisible file (traditionally a single-pixel image) on a World Wide Web page, primarily used to track users.

He suspected the image was a web bug used for determining who was visiting the site.

(broadcasting) A small, usually transparent or translucent image placed in a corner of a television program to indicate what network or cable channel is televising it

Channel 4's bug distracted Jim from his favorite show

(aviation) A manually positioned marker in flight instruments
A semi-automated telegraph key
(chiefly LGBT, "the bug") HIV.
Usage notes
Adjectives often applied to "bug": major, minor, serious, critical, nasty, annoying, important, strange, stupid, flying, silly.
Verb
(third-person singular simple present bugs, present participle bugging, simple past and past participle bugged)
(informal) To annoy.

Don't bug me, I'm busy!
Origin
First attested in this form around 1620 (referring to a bedbug), from earlier bugge ("beetle"), a conflation of two words:
Middle English bugge ("scarecrow, hobgoblin"), from Proto-Germanic *bugja- ("swollen up, thick") (compare Norwegian bugge ("big man"), dialectal Low German Bögge ("goblin", "snot")
Middle English budde ("beetle"), from Old English budda (see scearnbudda ("dung beetle")), from Proto-Germanic *buddô, *buzdô (compare Low German Budde ("louse, grub"), Norwegian budda ("newborn domestic animal")). More at bud.
See also:
büg
---
bug - Computer Definition

An error in coding or logic that causes a computer software program to malfunction (i.e., perform erratically, suffer catastrophic failure (crash), or produce invalid results. Although the origin of the term bug is somewhat in dispute, folklore dates it the mid-to-late 1940s, when a moth attracted to the light given off by the vacuum tubes of one of the first digital computers, either the Mark I or the ENIAC, died and shorted one of the circuits, causing a system failure. Others attribute the term to Thomas Edison (1878). So much for the etymology of bug. As for entomology, a moth is not a bug, strictly speaking. A true bug has thickened forewings and mouth parts adapted for piercing and sucking, and is of the insect order Hemiptera, which includes aphids, cicadas, and squash bugs. Moths suck, but do not pierce, and belong to the order Lepidoptera, as do butterflies. (Note: There are two kinds of people in this world -those who just love this arcane trivia, and those who hate it. I love it, in moderation. "Arcane trivia" is somewhat tautological, which is a pedantic word for redundant. There are two types of people in this world -- those who love pedants and those who hate them. I hate them.) By the way, a bug fix is in the form of a patch, update, upgrade, or insecticide, depending on the type of bug involved. See also bug fix; Edison,Thomas Alva; entomology; etymology; and pedant
An undocumented feature. (That's a joke.)
---

Defined nowadays as a programming error in a software program and usually having undesirable effects, the term allegedly stems from a real insect that was found to have disturbed operations in one of the early computer systems.
See Also: Computer.
---
A persistent error in software or hardware. If the bug is in software, it can be corrected by changing the program code. If the bug is in hardware, a new circuit has to be designed, and the erroneous chip has to be replaced. Although the derivation of bug is generally attributed to a moth that was found squashed between the relays of Harvard University's Mark II electromechanical calculator in the 1940s, the term actually goes back to the 1800s to refer to flaws in mechanical systems. See buggy, bug fix, software bug, broken, Heisenbug and Web bug. Contrast with glitch.
A Note from the Author
On October 19, 1992, I found my first "real bug." When I fired up my laser printer, it printed blotchy pages. Upon inspection, I found a bug lying belly up in the trough below the corona wire. The printer worked fine after removing it!
---