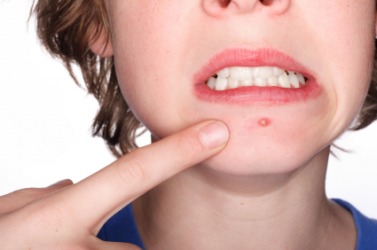 A girl pointing to a blemish on her chin.
noun
The definition of a blemish is a flaw in something otherwise perfect or complete.

A thirty day late on an otherwise perfect credit report is an example of a blemish.
A pimple on a person's face is an example of a blemish.
verb
Blemish means to spoil the perfection of something.

Adding too much salt to a perfectly flavored risotto is an example of to blemish.
---
blemish
to mar, as by some flaw or fault; spoil the perfection of
Origin of blemish
Middle English
blemishen
from Old French
blemiss-
, extended stem of
blesmir,
to injure, probably via Frankish an unverified form
blesmjan,
to cause to turn pale from an unverified form
blesmi,
akin to blaze
a mark that mars the appearance, as a stain, spot, scar, etc.
any flaw, defect, or shortcoming
---
blemish
noun
A small mark that makes the appearance of something less attractive.
An imperfection that mars or impairs; a flaw.
transitive verb
blem·ished, blem·ish·ing, blem·ish·es
To cause to have a small mark or marks that diminish attractiveness: skin blemished by an allergy.
To mar or impair by a flaw: accusations that blemished his reputation.
Origin of blemish
Middle English
blemisshen
to damage, mar
from
Old French
blesmir, blemir
blemiss-
to make pale
of Germanic origin
; see
bhel-
1
in Indo-European roots.
Related Forms:
---
blemish

---