tarnish

tar·nish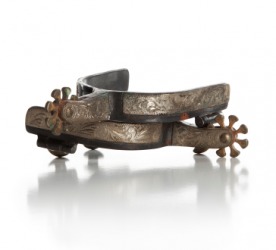 Tarnished silver spurs.
verb
Tarnish is defined as to spoil or to discolor the surface of a piece of metal.

An example of to tarnish is to expose silver to sulfur and air.
---
tarnish
to dull the luster of or discolor the surface of (a metal) as by exposure to air

to besmirch or sully (a reputation, honor, etc.)
to spoil, mar, or debase: to tarnish a memory
Origin of tarnish
from French
terniss-
, inflectional stem of
ternir
, to make dim from MFr, probably from Old High German
tarnjan
, to conceal from
tarni
, hidden
to lose luster; grow dull; discolor, as from oxidation
to become sullied, soiled, spoiled, marred, etc.
the condition of being tarnished; dullness
the film of discoloration on the surface of tarnished metal
a stain; blemish
---
tarnish
verb
tar·nished, tar·nish·ing, tar·nish·es
verb
transitive
To dull the luster of; discolor, especially by exposure to air or dirt: Being in the ground for so long tarnished the old coins.

a. To detract from or spoil: a tasteless meal that tarnished an otherwise pleasant evening.

b. To bring disgrace to; sully: a scandal that tarnished his reputation.
verb
intransitive
To lose luster; become discolored: a metal that tarnishes quickly.
To become less enjoyable or estimable: Her admiration for the movie's producer quickly tarnished.
noun
The condition of being tarnished: no sign of tarnish on the frame.
A film or layer of discoloration on a metal surface caused by corrosion or oxidation.
The condition of being disgraced or made less estimable: the tarnish on his reputation.
Origin of tarnish
Middle English
ternisshen
from
Old French
ternir
terniss-
to dull
from
terne
dull
of Germanic origin
Related Forms:
---
tarnish

Verb
(third-person singular simple present tarnishes, present participle tarnishing, simple past and past participle tarnished)
(intransitive) To oxidize or discolor due to oxidation.

Careful storage of silver will prevent it from tarnishing.

To soil, sully, damage or compromise

He is afraid that he will tarnish his reputation if he disagrees.

(intransitive, figuratively) To lose its lustre or attraction; to become dull.
Origin
From Middle French terniss-, stem of ternir ("to make dull, deaden, tarnish"), from Old French ternir ("to make dim, make wan"), from Frankish *tarnjan ("to cover up, conceal, hide"), from Proto-Germanic *darnijanÄ… ("to conceal"), from Proto-Indo-European *dher(ǝ)-, *dhrÄ"- ("to hold, hold tight, support"). Cognate with Old High German *tarnjan, tarnen ("to hide, cover up, conceal") (Modern German tarnen), Old English dyrnan, diernan ("to keep secret, conceal, hide, restrain, repress"). More at dern, darn.
---