verb
Tarnish is defined as to spoil or to discolor the surface of a piece of metal.

An example of to tarnish is to expose silver to sulfur and air.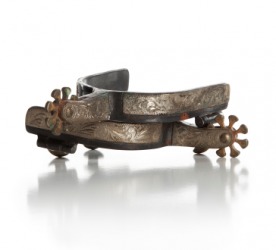 Tarnished silver spurs.
---
tarnish definition by Webster's New World
transitive verb
to dull the luster of or discolor the surface of (a metal) as by exposure to air

to besmirch or sully (a reputation, honor, etc.)
to spoil, mar, or debase: to tarnish a memory
Origin: ; from French terniss-, inflectional stem of ternir, to make dim ; from Middle French probably ; from Old High German tarnjan, to conceal ; from tarni, hidden
intransitive verb
to lose luster; grow dull; discolor, as from oxidation
to become sullied, soiled, spoiled, marred, etc.
noun
the condition of being tarnished; dullness
the film of discoloration on the surface of tarnished metal
a stain; blemish
Webster's New World College Dictionary Copyright © 2010 by Wiley Publishing, Inc., Cleveland, Ohio. Used by arrangement with John Wiley & Sons, Inc.
---
tarnish definition by American Heritage Dictionary
verb
tar·nished
,
tar·nish·ing
,
tar·nish·es
verb
, transitive
To dull the luster of; discolor, especially by exposure to air or dirt.

a. To detract from or spoil; taint: a tragedy that tarnished our hopes.

b. To cast aspersions on; sully: slander that tarnished the senator's image.
verb
, intransitive
To lose luster; become discolored.
To diminish or become tainted.
noun
The condition of being tarnished.
Discoloration of a metal surface caused by corrosion or oxidation.
The condition of being sullied or tainted.
Origin: Middle English ternisshen, from Old French ternir, terniss-, to dull, from terne, dull, of Germanic origin.
Related Forms: