adjective
The definition of dirty is something soiled, unclean or impure.

A job that causes your hands to become covered in filth is an example of a dirty job.
A dish that has bits of old food on it is an example of a dirty dish.
Impure or sinful thoughts are an example of dirty thoughts.
verb
To dirty is to cause something to become unclean or impure.

When you get mud on the floor, this is an example of a situation where you dirty the floor.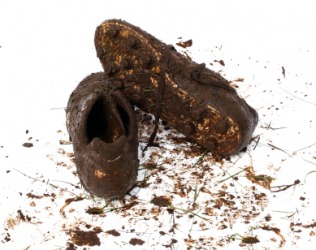 A pair of dirty shoes.
---
dirty definition by Webster's New World
adjective
dirtier, dirtiest
soiled or soiling with dirt; unclean
causing one to be soiled with dirt: a dirty occupation
lacking luster or brilliance; dull, grayish, etc.: a dirty green
obscene; pornographic: dirty jokes
given to lechery or lustful thoughts; prurient: a dirty mind, dirty old man
disagreeable or contemptible; mean; nasty: a dirty coward
unfair; dishonest; unsportsmanlike: a dirty player
unkind; malicious or malevolent: dirty remarks
☆ producing much fallout: said of nuclear weapons
revealing anger or irritation: a dirty look
squally; rough: dirty weather
☆

Slang

rasping, reedy, rough, etc. in tone: a dirty trumpet
Origin: Middle English dritti
---
dirty definition by American Heritage Dictionary
adjective
dirt·i·er
,
dirt·i·est
a. Soiled, as with dirt; unclean.

b. Spreading dirt; polluting: The air near the foundry was always dirty.

c. Apt to soil with dirt or grime: a dirty job at the garage.

d. Contaminated with bacteria or other infectious microorganisms.

Squalid or filthy; run-down: dirty slums.

a. Obscene or indecent: dirty movies; a dirty joke.

b. Malicious or scandalous: a dirty lie.

a. Unethical or corrupt; sordid: dirty politics.

b. Not sportsmanlike: dirty players; a dirty fighter.

c. Acquired by illicit or improper means: dirty money.

d. Slang Possessing or using illegal drugs.

a. Unpleasant or distasteful; thankless: Laying off workers is the dirty part of this job.

b. Extremely unfortunate or regrettable: a dirty shame.

Expressing disapproval or hostility: gave us a dirty look.
Not bright and clear in color; somewhat dull or drab. Often used in combination: dirty-blonde hair; dirty-green walls.
Producing a very great amount of long-lived radioactive fallout. Used of nuclear weapons.
Stormy; rough: dirty weather.
verb
dirt·ied
,
dirt·y·ing
,
dirt·ies
verb
, transitive
To make soiled.
To stain or tarnish with dishonor.
verb
, intransitive
To become soiled.
Related Forms:
The American Heritage® Dictionary of the English Language, 4th edition Copyright © 2010 by Houghton Mifflin Harcourt Publishing Company. Published by Houghton Mifflin Harcourt Publishing Company. All rights reserved.
---
dirty - Phrases/Idioms
a dirty shame
a very unfortunate circumstance