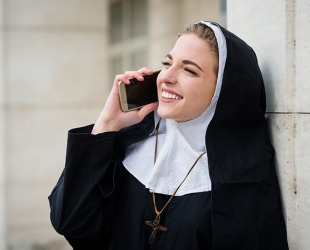 The nun's pure intentions are a testament of her devotion to her faith.
adjective
The definition of pure is something that is not mixed with any other elements, that is not contaminated in any way or a person who has no sins or who is wholesome.

An example of pure is what that has not been mixed with anything else.
An example of pure is a nun who is moral and virtuous.
---
pure
adjective
pur′er

,

pur′est
free from any adulterant; unmixed: pure maple syrup
free from anything that taints, impairs, infects, etc.; clear: pure water or air

simple; mere: pure luck
utter; absolute; sheer: pure lunacy
free from defects; perfect; faultless
free from sin or guilt; blameless
virgin or chaste
of unmixed stock; purebred
restricted to the abstract or theoretical aspects: pure physics

Bible

ceremonially undefiled

Phonet.

articulated without any change in quality and with virtually no movement of the vocal organs; monophthongal: (e) is a pure vowel
Origin of pure
Middle English
pur
from Old French from Classical Latin
purus
, pure from Indo-European base an unverified form
peu-
, an unverified form
p?-
, to purify, cleanse from source Sanskrit
pun?ti
, (he) cleanses, Classical Latin
putare
, to cleanse, Old High German
fowen
, to sift
---
pure
adjective
pur·er, pur·est
a. Having a homogeneous or uniform composition; not mixed: pure oxygen.

b. Free of dirt, pollutants, infectious agents, or other unwanted elements: pure water.

c. Containing nothing inappropriate or extraneous: a pure style of piano playing.

Complete; utter: pure folly.

a. Having no moral failing or guilt: "I felt pure and sweet as a new baby" ( Sylvia Plath )

b. Chaste; virgin.

Of unmixed blood or ancestry.
Genetics Produced by self-fertilization or continual inbreeding; homozygous: a pure line.
Music Free from discordant qualities: pure tones.
Linguistics Articulated with a single unchanging speech sound; monophthongal: a pure vowel.
Theoretical; not applied: pure science.
Philosophy Free of empirical elements: pure reason.
Origin of pure
Middle English
pur
from
Old French
from
Latin
pūrus
; see
peuə-
in Indo-European roots.
Related Forms:
---
pure

---