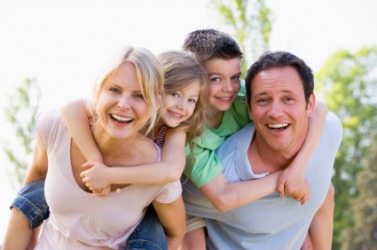 A nice family.
adjective
The definition of nice is someone who is pleasant or agreeable or something that is in good condition and that is pleasing.

An example of nice is a description for a person who is friendly and who everyone likes.
An example of nice is a sofa in good condition from a good store.
---
nice
adjective
nic′er

,

nic′est
Obs.

ignorant; foolish
wanton
coy; shy

Archaic

difficult to please; fastidious; refined; scrupulous

delicate; precise; discriminative; subtle: a nice distinction
calling for great care, accuracy, tact, etc., as in handling or discrimination: a nice problem of diplomacy

able to make fine or delicate distinctions
a generalized term of approval meaning variously:

agreeable; pleasant; delightful
attractive; pretty
kind and considerate
conforming to approved social standards; respectable
in good taste
good; excellent
Origin of nice
ME, strange, lazy, foolish from Old French
nice, nisce
, stupid, foolish from Classical Latin
nescius
, ignorant, not knowing from
nescire
, to be ignorant from
ne-
, not (see no) +
scire
, to know: see science
adverb
nic′er

,

nic′est
well, pleasingly, attractively, etc.: variously regarded as nonstandard, dialectal, or informal
make nice
Informal
to try to be friendly or cooperative: often with
with
nice and
Informal
altogether, in a pleasing way:
likes his tea nice and hot
Nice
seaport & resort in SE France
---
nice
adjective
nic·er, nic·est
Pleasing and agreeable in nature: had a nice time; a nice person.
Having a pleasant or attractive appearance: a nice dress; a nice face.
Exhibiting courtesy and politeness: a nice gesture.
Of good character and reputation; respectable.
Overdelicate or fastidious; fussy.
Showing or requiring great precision or sensitive discernment; subtle: a nice distinction; a nice sense of style.
Done with delicacy and skill: a nice bit of craft.
Used as an intensive with and : nice and warm.
Obsolete

a. Wanton; profligate: "For when mine hours / Were nice and lucky, men did ransom lives / Of me for jests" ( Shakespeare )

b.

Affectedly modest; coy:

"Ere … / The nice Morn on th'

Indian

steep, / From her cabin'd loop-hole peep"

(

John Milton

)
Origin of nice
Middle English
foolish
from
Old French
from
Latin
nescius
ignorant
from
nescīre
to be ignorant
; see
nescience
.
Related Forms:
Nice
A city of southeast France on the Mediterranean Sea northeast of Cannes. Controlled by various royal houses after the 1200s, the city was finally ceded to France in 1860. It is the leading resort city of the French Riviera.x
---
nice

Adjective
(comparative nicer, superlative nicest)
(now rare) Particular in one's conduct; scrupulous, painstaking; choosy. [from 14th c.]
1822, T. Creevey, Reminiscences, 28 Jul:

It has been a damned nice thing - the nearest run thing you ever saw in your life.

Respectable; virtuous. [from 18th c.]

What is a nice person like you doing in a place like this?

Pleasant, satisfactory. [from 18th c.]
Of a person: friendly, attractive. [from 18th c.]
With "and", having intensive effect: extremely. [from 18th c.]

The soup is nice and hot.
Adverb
(comparative more nice, superlative most nice)
(colloquial) Nicely.

Children, play nice.
He dresses real nice.
Interjection
Used to signify approval.

Is that your new car? Nice!
Origin
From Middle English nice, nyce, nys, from Old French nice, niche, nisce ("simple, foolish, ignorant"), from Latin nescius ("ignorant, not knowing"); compare nescire ("to know not, be ignorant of"), from ne ("not") + scire ("to know").
Verb
(third-person singular simple present nices, present participle nicing, simple past and past participle niced)
Origin
Name of a Unix program used to invoke a script or program with a specified priority, with the implication that running at a lower priority is "nice" (kind, etc.) because it leaves more resources for others.
Proper noun
A city in southeast France on the coast of the Mediterranean Sea, capital of the department of Alpes-Maritimes.
Nice (pronounced /ni:s/ or /naɪs/) is also a family name found in the United Kingdom, U.S.A., and other western countries.
---