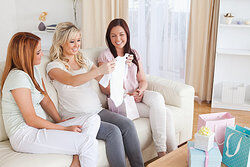 After enjoying your fun baby shower and receiving all those gifts, it is always a good idea to express your gratitude by sending thank you notes to all your guests. One of the best tips on writing baby shower thank you notes is to get them out as early as you can. Take care of the little things early, so you can devote all your energy looking after your little one - and yourself! - after delivery.
Your guests will surely appreciate your sweet gesture when you send them thank you notes. They will love the feeling that you enjoyed your shower and that you value your friendship.
There are several options when selecting the actual thank you notes to send:
You can buy thank you notes from a craft or party shop. Choose a note card that matches the style and motif used in your baby shower invites.
If you're considering taking the more creative route, there are fun and unique ways of constructing your own thank you cards. You can use a photo that was taken during the shower itself. Simply write your message on the back of the photo. It's a thank you note and souvenir in one!
If you want to be creative but are struggling with a theme, try our quotes on gratitude for ideas.
Another option is to upload one of your photos to your computer, play around with some effects, and transform it with funky graphics. Adobe Spark and Canva are great online options for the less technically-inclined. Print it out on your note-sized cards for personalized and unique stationery.
Writing the Thank You Notes
If you've already given birth, a lovely touch can be using footprints of your baby as a motif for the notes. Simply place your baby's foot on a stamp pad and place their foot on your card. Don't forget to mention birth information, such as your baby's name, length and weight. Include a photo, too. Your friends and family will definitely be charmed by this.
If your baby hasn't arrived yet, your notes are a good way to confirm everyone's contact information for all pending announcements.
The first rule of baby shower thank you cards etiquette is to acknowledge more than the gifts. Acknowledge the kindness of your baby shower's attendees in giving their time and energy to wish you and your family well.
Beyond that, baby shower thank you wording can vary depending on the addressee. We've provided example notes for coworkers, friends, family and, if you had one, your host.
Our example notes are formatted as downloadable, editable PDFs for your convenience.
Thank You Note for a Coworker
The tone for a baby shower thank you note to a coworker should strike a balance between etiquette and sincerity. Obviously, you don't know your coworkers as well as your personal friends or family members. At the same time, they were kind enough to give up their time and energy to support you at an important time.
Don't overreach or overshare, but make sure they understand their contribution is valued. For help striking that balance, try our advice on how to write a thank you letter.
Dear [Coworker Colleen],
Thank you so much for the [Colleen's gift]! It's sure to make these early days easier. More than that, thank you so much for coming to my shower. It really means a lot that you took time out of your schedule - and I know how busy you are! - to wish our family well. We'll be sure to send pictures and announcements. Thank you again!
Love,
[Your Name]
Baby Shower Note for a Friend
A thank you note for a friend can be much more casual and playful than your note to your coworker. All this note needs to do is make your friend smile and feel good for putting in the time.
Dear [Friend Fiona],
Thank you so much for the [Fiona's gift]! I know [baby's name] is going to love it. We've got some long months coming up, and it means so much that we have you, [Mutual Friend Matt] and everyone else cheering us on. Don't worry, we'll be sure to send lots of pictures your way. Thank you again!
Love,
[Your Name]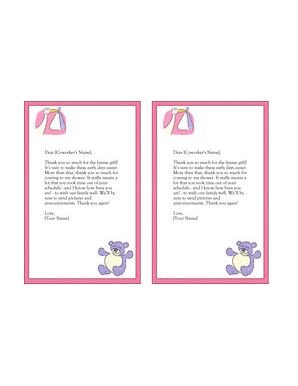 Sample Thank You for Family
Notes to family can be tricky and subjective, since every family dynamic is different. Just remember it's a short note with a clear goal: make your relative feel good about making the time and giving you something nice. All your note needs is to be short, simple and sincere.
Dear [Relative Rachel],
I was so happy you came to my baby shower! The [Rachel's gift] is sure to come in handy. More than that, though, I was just so happy to see you. It meant so much to have you close at this important time. Get ready for us to deluge you with pictures and announcements as they come!
Love you!
[Your Name]
Thanking the Baby Shower Host
Obviously not everyone is going to have one of these. If you do, it's extra important to thank the person who hosted your gathering. They didn't just spend time and energy; they opened their space for you to use in an important moment. Shower them (so to speak) with thanks.
Dear [Host Holly],
I am so grateful for the use of your [Holly's hosting space] for my baby shower. I loved it. The guests loved it. I think little Horace loved it too. Opening your space to us at this special time meant so much. We'll be sure to pass along pictures. Thank you again!
Love,
[Your Name]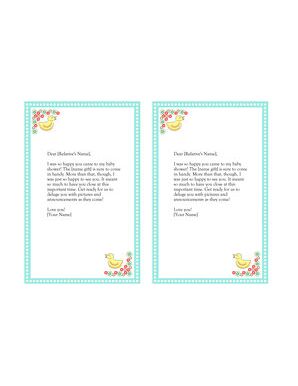 Note Writing Tips and Advice
Here are a few things to keep in mind, whether you start with our pre-written notes or write your own from scratch.
Be personal. This isn't a formal assignment. Use "you" and "I" liberally. Personalizing the language helps the recipient feel closer to you and happier about the event you shared.
Get creative. Try some of our quotes on thankfulness to add a poetic flair to your notes. Express yourself!
Handwriting is nice, but not necessary. You may read in a "preparing for baby" book or hear from a loved one that your note needs to be handwritten. It does not. This is 2019. If you have nice handwriting, a handwritten note can be a lovely, personal touch. If you have handwriting resembling that of the author of this article, a handwritten note is more likely to be lovely, personal gibberish. Be honest with yourself about your readability. If you're not 100 percent, type it up in a nice font, print it on nice stationery and you're golden.
Include details. Obviously, use the recipient's name and mention the gift they gave. If you're using the thing, tell them how. This is another way of being personal; it shows that you've given the recipient individual thought and attention.
Make it special, especially when it is. If a particular friend or relative set up and ran the whole shower for you, make sure they know you know it. Include chocolates or a bottle of wine (or both! Nothing wrong with chocolates and wine) and be sure the text of the note mentions their special efforts on your behalf.
Spread it out. This is a tip for you, not for your baby shower attendees. Doing all the notes in one sitting is a surefire recipe for misery. Spread out the work. Put notecards and a pen in your pocket (or use a note-taking app on your phone) and do them a few at a time. The notes will be better and you'll be happier with the process.
To state the obvious, the baby shower thank you notes aren't, and shouldn't be, your first priority as an expecting mother. We've provided examples and advice for precisely that reason: this should be as quick and painless as possible.
For more ideas, try our pages on words of appreciation or examples of thank you notes. Most importantly, always write from the heart.