adjective
The definition of nasty is something that is very dirty, unpleasant or offensive.

An example of something nasty is the bottom of a dumpster.
An example of something nasty is a person using bad words.
YourDictionary definition and usage example. Copyright © 2013 by LoveToKnow Corp.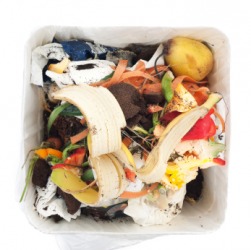 The contents of a trash container can get pretty nasty.
Licensed from iStockPhoto
---
adjective
nastier, nastiest
very dirty, filthy
offensive in taste or smell; nauseating
morally offensive; indecent
very unpleasant; objectionable: nasty weather
mean; malicious; ill-humored: a nasty temper
very harmful or troublesome: a nasty bruise
Origin: Middle English from uncertain or unknown; perhaps or akin to Dutch nestig, dirty
noun
pl.
nasties
an offensive, objectionable, or very unpleasant person or thing
a condition of plant growth by a (specified) means or in a (specified) direction: epinasty
Webster's New World College Dictionary
Copyright © 2010 by Wiley Publishing, Inc., Cleveland, Ohio.
Used by arrangement with John Wiley & Sons, Inc.
---
adjective
nas·ti·er
,
nas·ti·est
a. Disgustingly dirty.

b. Physically repellent.

Morally offensive; indecent. See Synonyms at offensive.
Malicious; spiteful: "Will he say nasty things at my funeral?" (Ezra Pound).
Very unpleasant or annoying: nasty weather; a nasty trick.
Painful or dangerous; grave: a nasty accident.
Exasperatingly difficult to solve or handle: a nasty puzzle; a nasty problem.
noun
pl.
nas·ties
One that is nasty: "It is the business of museums to present us with nasties as well as with fine things" (Country Life).
Origin: Middle English nasti, possibly alteration of Old French nastre, bad, short for villenastre : vilein, bad; see villain + -astre, pejorative suff. (from Latin -aster).
Related Forms:
suffix
Nastic response or change: epinasty.
Origin: Greek nastos, pressed down; see nastic + -y2.
The American Heritage® Dictionary of the English Language
, 4th edition Copyright © 2010 by Houghton Mifflin Harcourt Publishing Company. Published by Houghton Mifflin Harcourt Publishing Company. All rights reserved.