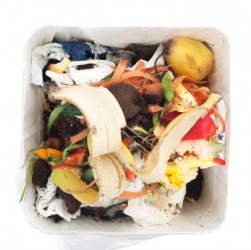 The contents of a trash container can get pretty nasty.
adjective
The definition of nasty is something that is very dirty, unpleasant or offensive.

An example of something nasty is the bottom of a dumpster.
An example of something nasty is a person using bad words.
---
nasty
adjective
-·tier

,

-·ti·est
very dirty, filthy
offensive in taste or smell; nauseating
morally offensive; indecent
very unpleasant; objectionable: nasty weather
mean; malicious; ill-humored: a nasty temper
very dangerous, troublesome, grievous, etc.: a nasty bruise, a nasty curveball
Origin of nasty
Middle English from uncertain or unknown; perhaps or akin to Dutch
nestig
, dirty
noun
pl.
-·ties
Informal
an offensive, objectionable, or very unpleasant person or thing
-nasty
a condition of plant growth by a (specified) means or in a (specified) direction: epinasty
Origin of -nasty
from Classical Greek
nastos
(see nastic) + -y
---
nasty
adjective
nas·ti·er, nas·ti·est
a.

Disgusting or repellent:

a nasty odor rising from the garbage can.

See Synonyms at

offensive

.

b. Unpleasantly cold or wet: nasty weather.

c. Archaic Dirty; filthy.

Morally offensive or indecent: a nasty film.

a. Unpleasant or annoying: a nasty habit.

b. Mean or spiteful: Stop being nasty to each other.

Painful or dangerous; grave: a nasty accident.
Exasperatingly difficult to solve or handle: a nasty puzzle; a nasty problem.
noun
pl.
nas·ties
One that is nasty: "It is the business of museums to present us with nasties as well as with fine things" ( Country Life )
Origin of nasty
Middle English
nasti
filthy
possibly alteration of
Old French
nastre
bad
short for
villenastre
vilein
bad
; see
villain
.
-astre
pejorative suff.
(
from
Latin
-aster
)
Related Forms:
-nasty
suffix
Nastic response or change: epinasty.
Origin of -nasty
Greek
nastos
pressed down
; see
nastic
.
-y
2
---
nasty

Adjective
(comparative nastier, superlative nastiest)
Noun
(plural nasties)
(informal) Something nasty.

Processed foods are full of aspartame and other nasties.
This video game involves flying through a maze zapping various nasties.

(euphemistic, preceded by "the") Sexual intercourse.
Origin
Origin unknown.
Theories include:
Alteration of nasky ("nasty"), probably of North Germanic origin, akin to Swedish naskug ("nasty, dirty"), Low German nask ("nasty"), Swedish snaskig ("dirty, messy").
Old French nastre ("bad, strange"), shortened form of villenastre ("infamous, bad"), from vilein ("villain") + -astre ("pejorative suffix"), from Latin -aster.
Dutch nestig ("dirty (literally, "like a bird's nest")")
Old High German naz = "wet"
Likely reinforced by a Scandinavian source (compare Swedish dialect naskug = "dirty, nasty").
A hardened form of an old word "neshy" = "soft".
Variant of "naughty"? See entry for aught/naught in Wikipedia & Wiktionary
Modern usage of the word "nasty" is sometimes attributed to the very popular but often derogatory 19th Century American political cartoons of Thomas Nast, but this is inconsistent with its usage long before Mr. Nast's birth in 1840.
---