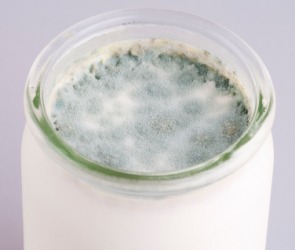 A bottle of rancid milk.
adjective
The definition of rancid is food that tastes or smells gross because of old or spoiled oil or fat.

Milk that has spoiled is an example of something that would be described as rancid.
---
rancid
having the bad smell or taste of stale fats or oils; spoiled
repugnant
Origin of rancid
Classical Latin
rancidus
from
rancere,
to be rank
---
rancid
adjective
Having the disagreeable odor or taste of decomposing oils or fats; rank.
Repugnant; nasty: rancid remarks.
Origin of rancid
Latin
rancidus
from
rancēre
to stink, be rotten
Related Forms:
---
rancid

Adjective
(comparative more rancid, superlative most rancid)
Being rank in taste or smell.

The house was deserted, with a rancid half-eaten meal still on the dinner table.

offensive

His remarks were rancid; everyone got up and left.
Usage notes
Nouns to which "rancid" often gets applied: food, butter, meat, milk, fat, oil, smell, odor, taste.
Origin
From Latin rancidus ("stinking, rank, rancid, offensive"), from ranceō ("to stink") (sense in Middle Latin), from whence also English rancor, in Latin used only in present participle rancens ("stinking").
---