adjective
The definition of fresh is something recently harvested, recently produced or newly made.

An example of fresh is just squeezed orange juice.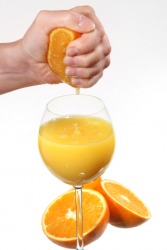 Fresh squeezed orange juice.
---
fresh definition by Webster's New World
adjective
recently produced, obtained, or arrived
newly made: fresh coffee

having original strength, vigor, quality, taste, etc.; esp.,

not preserved by being salted, pickled, canned, or frozen: fresh meat, fresh vegetables
not spoiled, rotten, or stale
not tired; vigorous; lively: to feel fresh after a nap
not worn, soiled, faded, etc.; vivid; bright; clean
youthful or healthy in appearance: a fresh complexion

not known before; new; recent: fresh information
additional; further: a fresh start

inexperienced; unaccustomed
having just arrived

original, spontaneous, and stimulating: fresh ideas
cool and refreshing; invigorating: a fresh spring day
brisk; strong: said of the wind
not salt: said of water
designating or of a cow that has just begun to give milk, as after having borne a calf
Origin: Middle English ; from Old English fersc, but altered under influenced, influence of Old French fres, fresche ; from Germanic an unverified form friska (from source German frisch and amp; Old English fersc)
noun
the fresh part
a freshet
a pool or stream of fresh water
intransitive verb
,
transitive verb
to make or become fresh
☆
adjective
Slang
bold; saucy; impertinent; impudent
Origin: ; from German frech, bold, impudent (akin to Old English fræc ; from Indo-European base an unverified form preg-, bold, greedy): confused with fresh
---
fresh definition by American Heritage Dictionary
adjective
fresh·er
,
fresh·est
New to one's experience; not encountered before.
Novel; different: a fresh slant on the problem. See Synonyms at new.
Recently made, produced, or harvested; not stale or spoiled: fresh bread.
Not preserved, as by canning, smoking, or freezing: fresh vegetables.
Not saline or salty: fresh water.
Not yet used or soiled; clean: a fresh sheet of paper.
Free from impurity or pollution; pure: fresh air.
Additional; new: fresh evidence.
Bright and clear; not dull or faded: a fresh memory.
Having the glowing, unspoiled appearance of youth: a fresh complexion.
Untried; inexperienced: fresh recruits.
Having just arrived; straight: fashions fresh from Paris.
Revived or reinvigorated; refreshed: I was fresh as a daisy after the nap.
Fairly strong; brisk: a fresh wind.
Informal Bold and saucy; impudent.
Having recently calved and therefore with milk. Used of a cow.
Slang Excellent; first-rate.
adverb
Recently; newly: fresh out of milk; muffins baked fresh daily.
noun
The early part: the fresh of the day.
A freshet.
Origin: Middle English, from Old English fersc, pure, not salty, and from Old French freis (feminine fresche), new, recent, of Germanic origin.
Related Forms:
The American Heritage® Dictionary of the English Language, 4th edition Copyright © 2010 by Houghton Mifflin Harcourt Publishing Company. Published by Houghton Mifflin Harcourt Publishing Company. All rights reserved.
---
fresh - Phrases/Idioms
fresh out (of)
Informal
having just sold or used up the last one or part (of)