gentle

gen·tle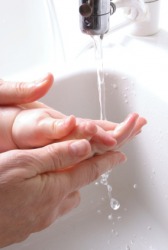 Gentle is how this mother washes her baby's hand.
adjective
The definition of gentle is someone with or something done with a calm, soothing and tender manner.

An example of gentle is a mother bathing her newborn baby.
---
gentle
adjective
-·tler

,

-·tlest
belonging to the upper classes or polite society
like or suitable to polite society; refined, courteous, etc.

Archaic

noble; chivalrous: a gentle knight
generous; kind: gentle reader
easily handled; tame: a gentle dog
kindly; serene; patient: a gentle disposition
not violent, harsh, or rough: a gentle tap, a gentle rebuke
gradual: a gentle slope
Origin of gentle
Middle English
gentil
from OFr, of noble birth from Classical Latin
gentilis
, of the same gens (in LL, of a good family) from
gens
: see gens
Archaic
a person of the upper classes
transitive verb
-·tled

,

-·tling
to make gentle, mild, or pleasant
to tame or train (a horse or other animal)
to calm or soothe as by stroking

Obs.

to raise to the social status of a gentleman
---
gentle
adjective
gen·tler, gen·tlest
Considerate or kindly in disposition; amiable and tender.
Not harsh or severe; mild and soft: a gentle scolding; a gentle tapping at the window.
Easily managed or handled; docile: a gentle horse.
Not steep or sudden; gradual: a gentle incline.

a. Of good family; wellborn: a child of gentle birth.

b. Suited to one of good breeding; refined and polite: a gentle greeting to a stranger.

Archaic Noble; chivalrous: a gentle knight.
noun
Archaic
One of good birth or relatively high station.
transitive verb
gen·tled, gen·tling, gen·tles
To make less severe or intense: The peaceful sunset gentled her dreadful mood.
To soothe, as by stroking; pacify.
To tame or break (a horse).
Obsolete To raise to the status of a noble.
Origin of gentle
Middle English
gentil
courteous, noble
from
Old French
from
Latin
gentīlis
of the same clan
from
gēns
gent-
clan
; see
genə-
in Indo-European roots.
Related Forms:
---
gentle

---