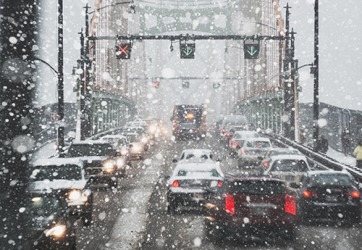 The rigorous weather conditions made the morning drive to work very dangerous for commuters.
adjective
Rigorous means very active or severe.

An example of rigorous is the amount and type of exercise done by Olympic athletes.

The definition of rigorous is something that is painfully exact or precise.

An example of rigorous is testing that is done during research.

Rigorous is defined as something that is harsh or very strict.

An example of a rigorous place is the cold of Antarctica.
An example of a rigorous law is a zero tolerance law on selling drugs.
---
rigorous
very strict or harsh: a rigorous rule, master, etc.
very severe or sharp: a rigorous climate
rigidly precise; thoroughly accurate or exact: rigorous scholarship
Origin of rigorous
Old French from Medieval Latin
rigorosus
---
rigorous
adjective
Characterized by or adhering to strict standards or methods; exacting and thorough: a rigorous study of the medication; a rigorous researcher.

a. Harsh, severe, or demanding: a rigorous taskmaster; a rigorous schedule.

b. Very unpleasant or inclement: a rigorous climate.

Adhering strictly to a belief or ideology; uncompromising or inflexible: a rigorous Catholic; a rigorous sense of correctness.
Related Forms:
---
rigorous

---