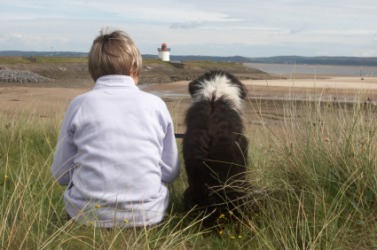 A faithful friend.
adjective
The definition of faithful is someone who is loyal and reliable or someone with a strong religious belief.

An example of faithful is a loyal dog who always comes to sit by your side.
An example of faithful is a spouse who never cheats on you with another person.
An example of faithful is a person who adheres strictly to the tenants of the Islamic religion.
---
faithful
keeping faith; maintaining allegiance; constant; loyal: faithful friends
marked by or showing a strong sense of duty or responsibility; conscientious: faithful attendance
accurate; reliable; exact: a faithful copy

Obs.

full of faith, esp. religious faith
Origin of faithful
Middle English
the faithful
the true believers (in any specified religion)
the loyal adherents or supporters
---
faithful
adjective
Adhering firmly and devotedly, as to a person, cause, or idea; loyal.
Engaging in sex only with one's spouse or only with one's partner in a sexual relationship.

a. Responsible; conscientious: the faithful discharge of his duties.

b. Dependable; reliable: The faithful engine started right up.

Consistent with truth or actuality: a faithful reproduction of the portrait.
Having or full of faith.
plural noun
The practicing members of a religious faith, especially of Christianity or Islam: a pilgrimage to Mecca made by the faithful.
The steadfast adherents of a faith or cause: a meeting of the party faithful.
Related Forms:
---
faithful

Adjective
(comparative more faithful, superlative most faithful)
Noun
(uncountable)
The practicing members of a religion or followers of a cause.

The faithful pray five times a day.
---