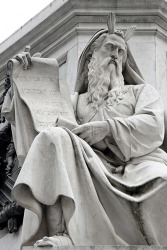 A statue of the prophet Moses holding the Ten Commandments.
noun
The definition of a prophet is someone who teaches or spreads the word of God, or is someone who claims to make predictions about what will happen in the future.

An example of a prophet was Moses, who heard God deliver the Ten Commandments.
An example of a prophet is someone who predicts what will happen twenty years from now.
---
prophet
a person who speaks for God or a god, or as though under divine or paranormal guidance
a religious teacher or leader regarded as, or claiming to be, divinely inspired
a spokesman for some cause, group, movement, etc.
a person who predicts future events in any way
Origin of prophet
Middle English
prophete
from Old French from Late Latin
propheta
, soothsayer, in LL(Ec), prophet from Classical Greek
proph?t?s
, interpreter of a god's will (in LXX, a Hebrew prophet; in New Testament , an inspired preacher) from
pro-
, before +
phanai
, to speak: see ban
the Prophet
among Muslims, Muhammad
among Mormons, Joseph Smith
the Prophets
one of the three major divisions of the Jewish Holy Scriptures, following the Pentateuch and preceding the Hagiographa
the authors or subjects of the prophetic books in this division, including Amos, Hosea, Isaiah, Micah, Jeremiah, etc.
---
prophet
noun
a. A person who speaks by divine inspiration or as the interpreter through whom the will of a god is expressed.

b. One of the highest-ranking leaders of the Mormon church, considered by the faithful to be divinely inspired, and responsible for establishing and revising doctrine.

A person gifted with profound moral insight and exceptional powers of expression.
A predictor; a soothsayer.
The chief spokesperson of a movement or cause.

a. Prophets used with a sing. or pl. verb

The second of the three divisions of the Hebrew Scriptures, comprising the books of Joshua, Judges, Samuel, Kings, Isaiah, Jeremiah, Ezekiel, and the Twelve. Used with

the. Bible

b. Prophet One of the prophets mentioned in the Bible, especially one believed to be the author of one of these books. Used with the.

Prophet Islam Muhammad. Used with the.
Origin of prophet
Middle English
prophete
from
Old French
from
Latin
prophēta
from
Greek
prophētēs
pro-
forth
; see
pro-
2
.
-phētēs
speaker
(
from
phanai
to speak
; see
bhā-
2
in Indo-European roots.)
Related Forms:
---
prophet

Origin
Old English propheta, from Latin propheta (later reinforced in English by Anglo-Norman prophete), from Ancient Greek προφήτης (prophÄ"tÄ"s, "one who speaks for a god"), from πρό (pro, "before") + φημί (phÄ"mi, "I tell").
---