Jesus
Je·sus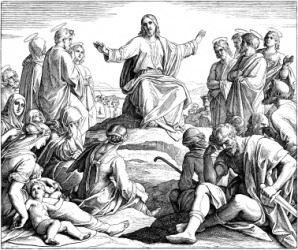 A depiction of Jesus delivering the Sermon on the Mount.
noun
Jesus was a teacher and the founder of the Christian religion, or a male name.

An example of Jesus is the person that Christians believe to be the son of God.
---
Jesus
a masculine name
Origin of Jesus
Ecclesiastical Late Latin
Iesus
; from Ecclesiastical Greek
I?sous
; from Classical Hebrew (language)
y?sh?
'
a,
contr. of
yeh?sh?
'
a
( Joshua), help of Jehovah ; from
y?h,
Jehovah +
h?sh?a,
to help
---
Jesus
4? BC–AD 29?
Jewish religious leader who was crucified in Jerusalem after his teaching and reported miracle-working incurred the disfavor of the Roman government of Palestine. In Christianity, Jesus is seen as Christ and as the Son of God.
Origin of Jesus
Middle English, from Late Latin
I&emacron;sus
, from Greek
I&emacron;sous
, from Hebrew
y&emacron;šûă'
, from
y&schwa;hôšûa'
,
Joshua
; see
Joshua
1
.
---
jesus
Proper noun
Jesus of Nazareth, a Jewish man whom many Christians consider the son of God and call Jesus Christ in belief that he is the Messiah, and whom Muslims believe to be a prophet.
A male given name in Spanish culture; an anglicized spelling of Jesús.
Usage notes
The possessive of the Jesus may be either Jesus's (pronounced with three syllables) or Jesus' (pronounced with two syllables). The latter form was traditionally more common when referred to the Christian figure while the former is more common when referring to other people named Jesus, but both forms are attested in both cases. See s'.
Noun
(plural Jesuses)
A Christian savior.
An artistic representation of a Christian savior.
Interjection
An expletive, the use of which is considered blasphemous among some Christians.

Jesus that was close!
Origin
From Ancient Greek Ἰησοῦς (Iēsous), from Hebrew ישוע (yeshúa). The Greek text makes no distinction between Jesus and Joshua, referring to them both as Ἰησοῦς (Iēsous). The Latin Vulgate is likely the earliest to make a distinction, referring to Jesus as Iesus and Joshua as Iosue.
See also:
Jesús
---