medium

me·di·um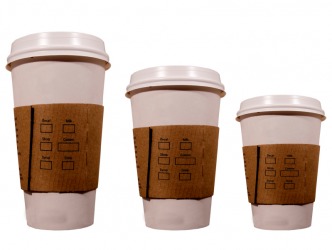 The medium cup is the one in the middle.
adjective
Medium is defined as something in the middle or in-between.

An example of medium is a shirt that's bigger than small and smaller than large.
noun
The definition of a medium is something that helps an effect to happen, or is a singular form of media.

An example of a medium is a metal spoon sitting in a cup of hot tea that is too hot to touch.
An example of a medium is a newspaper from the combined media form of newspapers, television, magazines, radio and the Internet.
---
medium
noun
pl.

-·di·ums

or

-·dia
something intermediate
a middle state or degree; mean

an intervening thing through which a force acts or an effect is produced: copper is a good medium for conducting heat
pl.

me′dia

any means, agency, or instrumentality
a means of communication that reaches the general public and, often, carries advertising: in this specif. sense, a singular form

media

(pl.

medias

) is now often used

any surrounding or pervading substance in which bodies exist or move
environment

Microbiol.

a sterilized nutritive mixture, as enriched agar, for cultivating bacteria, viruses, etc.
pl.

me′di·ums

a person through whom communications are thought to be sent to the living from spirits of the dead
pl.

me′dia

any material or technique as used for expression or delineation in art
a liquid mixed with pigments to give smoothness
Origin of medium
L, the middle, neuter of
medius
: see mid
in a middle position; intermediate in quality, amount, degree, size, etc.
between rare and well-done: said of cooked meat
---
medium
noun
pl.
me·di·a,
or
me·di·ums
Something, such as an intermediate course of action, that occupies a position or represents a condition midway between extremes.
Physics

a. A substance that propagates energy or signals through space via changes in its own state: Air acts as a medium for the transmission of sound waves.

b. The sparsely distributed gas and dust subsisting in the space between stars.

An agency by which something is accomplished, conveyed, or transferred: The train was the usual medium of transportation in those days.
pl. media Usage Problem

a. A means of mass communication, such as newspapers, magazines, radio, or television.

b. media used with a sing. or pl. verb The group of journalists and others who constitute the communications industry and profession.

pl. media Computers Any of various kinds of storage devices, such as hard drives or digital audiotape.
pl. mediums A person thought to have the power to communicate with the spirits of the dead or with agents of another world or dimension. Also called psychic .
pl. media

a. A surrounding environment in which something functions and thrives.

b. The substance in which a specific organism lives and thrives.

c. A culture medium.

a. A specific kind of artistic technique or means of expression as determined by the materials used or the creative methods involved: the medium of lithography.

b. The materials used in a specific artistic technique: oils as a medium.

A solvent with which paint is thinned to the proper consistency.
Chemistry A filtering substance, such as filter paper.
adjective
Occurring or being between two degrees, amounts, or quantities; intermediate:
ordered a medium coffee.
See Synonyms at
average
.
Origin of medium
Latin
from
neuter of
medius
middle
; see
medhyo-
in Indo-European roots.
Usage Note: The etymologically plural form media is sometimes used as a singular to refer to a particular means of communication, as in The internet is the most exciting new media since television. Many people regard this usage as incorrect. In our 2001 survey, 91 percent of the Usage Panel rejected this usage in the example just quoted. In such contexts. the singular medium is acceptable. • Media also occurs with the definite article as a collective term that refers to the communities and institutions behind the various forms of communication. In this sense, the media means something like "the press." Like other collective nouns, it may take a singular or plural verb depending on the intended meaning. If the point is to emphasize the multifaceted nature of the press, a plural verb may be more appropriate: The media have covered the trial in a variety of formats. Quite frequently, however, media stands as a singular noun for the aggregate of journalists and broadcasters: The media has not shown much interest in covering the trial. All things being equal, the Usage Panel has a decided preference for the plural use in these sentences, with 91 percent accepting the variety of formats sentence, and only 38 accepting the covering the trial sentence in 2001. This suggests that many people still think of media predominantly as a plural form, and that it will be some time before the singular use of media begins to crowd out the plural use in the manner of similar Latin plurals, such as agenda and data. • Inconveniently, the singular medium cannot be used as a collective noun for the press. Sentences like No medium has shown much interest in covering the trial are not standard and may be viewed as nonsensical.
---
medium

Noun
(plural media or mediums)
(plural media or mediums) The nature of the surrounding environment, e.g. solid, liquid, gas, vacuum, or a specific substance such as a solvent.
​(plural media or mediums) A format for communicating or presenting information.
(plural media or mediums, engineering) The materials used to finish a workpiece using a mass finishing or abrasive blasting process.
(plural media or mediums, microbiology) A nutrient solution for the growth of cells in vitro.
(plural mediums or media, painting) A tool used for painting or drawing.

Acrylics, oils, charcoal and gouache are all mediums I used in my painting.

(plural mediums, spiritualism) Someone who supposedly conveys information from the spirit world.
(plural mediums) Anything having a measurement intermediate between extremes, such as a garment or container.
(plural mediums) A person whom garments or apparel of intermediate size fit.
(plural mediums, Ireland, dated, informal) A half-pint serving of Guinness (other stout in some regions).
A middle place or degree.

a happy medium
Adjective
(not comparable)
Of intermediate size, degree, amount etc.
Of meat, cooked to a point greater than rare but less than well done; typically, so the meat is still red in the centre.
Adverb
(comparative more medium, superlative most medium)
to a medium extent
---
medium - Computer Definition

A substance that conveys something, i.e., through which something is carried or transmitted. In the context of telecommunications, a medium is something that passively supports or allows the conveyance or transmission of a signal, and is not necessarily a tangible thing that can be touched. See transmission medium.
---
---