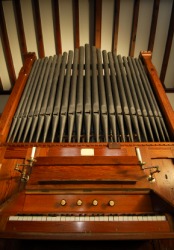 A small church organ.
noun
The definition of an organ is a part of the body that has a specific function.

An example of a organ is the liver.

An organ is defined as a large wind keyboard musical instrument.

An example of organ is the instrument most often played in church.
---
organ
a large wind instrument consisting of various sets of pipes which, as they are opened by corresponding keys on one or more keyboards, allow passage to a column of compressed air that causes sound by vibration
any of several musical instruments producing similar or somewhat similar sounds

Archaic

any musical instrument; esp., a wind instrument

in animals and plants, a part composed of specialized tissues and adapted to the performance of a specific function or functions
the penis: a nontechnical use
a means or instrument for the performance of some action: an organ of local government
a means of communicating ideas or opinions, as a periodical
Origin of organ
Middle English
organe
from Old English
organa
and Old French
organe,
both from Classical Latin
organum,
tool, implement (in LL(Ec), a church organ) from Classical Greek
organon,
an implement, engine from
ergon,
work
---
organ
noun
Music

a. An instrument consisting of a number of pipes that sound tones when supplied with air and a keyboard that operates a mechanism controlling the flow of air to the pipes. Also called pipe organ .

b. Any one of various other instruments, such as the electronic organ, that resemble a pipe organ either in mechanism or sound.

Biology A differentiated part of an organism, such as an eye, wing, or leaf, that performs a specific function.
An instrument or agency dedicated to the performance of specified functions: The FBI is an organ of the Justice Department.
An instrument or means of communication, especially a periodical issued by a political party, business firm, or other group.
Origin of organ
Middle English
from
Old French
organe
and from
Old English
organe
both from
Latin
organum
tool, instrument
from
Greek
organon
; see
werg-
in Indo-European roots.
organ-
---
organ

Noun
(plural organs)
(by extension) A body of an organization dedicated to the performing of certain functions.
(music) A musical instrument that has multiple pipes which play when a key is pressed, or an electronic instrument designed to replicate such.
An official magazine, newsletter, or similar publication of an organization.
(slang) The penis.
Verb
(third-person singular simple present organs, present participle organing, simple past and past participle organed)
(obsolete) To supply with an organ or organs; to fit with organs.
---