noun
The definition of a magazine is a storage place, a place where ammunition is stored, or a publication with articles, photographs, and advertisements published at regular intervals.

An example of a magazine is a warehouse storage unit.
An example of a magazine is a special building on an Army base where ammunition and explosives are securely stored.
An example of a magazine is Better Homes and Gardens.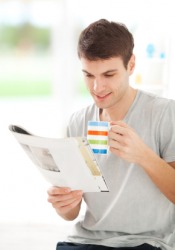 A man reading a magazine.
---
magazine definition by Webster's New World
noun
a place of storage, as a warehouse, storehouse, or military supply depot
a space in which ammunition and explosives are stored, as a building or room in a fort, or a section of a warship
a supply chamber, as a space in or container on a rifle or pistol from which cartridges are fed, or a space in or container on a camera from which a protected roll of film is fed
the things kept in a magazine, as munitions or supplies

Origin: from the idea of "storehouse of information"

a publication, usually with a paper back and sometimes illustrated, that appears at regular intervals and contains stories, articles, etc. by various writers and, usually, advertisements
a newspaper section similar to this

☆ a television program, appearing regularly, with brief informational segments
Origin: French magasin ; from Old French magazin ; from Italian magazzino ; from Arabic makhāzin, plural of makhzan, a storehouse, granary ; from khazana, to store up
Webster's New World College Dictionary Copyright © 2010 by Wiley Publishing, Inc., Cleveland, Ohio. Used by arrangement with John Wiley & Sons, Inc.
---
magazine definition by American Heritage Dictionary
noun
A periodical containing a collection of articles, stories, pictures, or other features.
A television program that presents a variety of topics, usually on current events, in a format that often includes interviews and commentary.

a. A place where goods are stored, especially a building in a fort or a storeroom on a warship where ammunition is kept.

b. The contents of a storehouse, especially a stock of ammunition.

a. A compartment in some types of firearms, often a small detachable box, in which cartridges are held to be fed into the firing chamber.

b. A compartment in a camera in which rolls or cartridges of film are held for feeding through the exposure mechanism.

c. Any of various compartments attached to machines, used for storing or supplying necessary material.
adjective
Of or relating to periodicals: a magazine story.
Origin: French magasin, storehouse, from Old French magazin (possibly via Old Italian magazzino), from Arabic maḫāzin, pl. of maḫzan, from ḫazana, to store, from Aramaic ḥassen, to possess, hoard, derived stem of ḥəsan, to be strong; see ḫsn in Semitic roots.