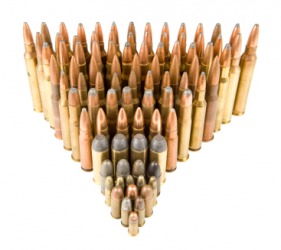 A group of rifle and handgun cartridges.
---
cartridge
noun
a cylindrical case of cardboard, metal, etc. containing the charge and primer, and usually the projectile, for a firearm
any of various small containers, holding a supply of material for a larger device into which it is inserted: an ink cartridge for a pen
a protected roll of camera film
a replaceable unit in the pickup of an electric phonograph, containing the stylus, or needle
Origin of cartridge
altered ; from cartouche
---
cartridge
noun
a. A cylindrical, usually metal casing containing the primer and charge of ammunition for firearms.

b. Such a casing fitted with a bullet.

c. A similar piece of ammunition, such as a shotgun shell.

A case filled with high explosives, used in blasting.
A small modular unit designed to be inserted into a larger piece of equipment: an ink cartridge; a disposable cartridge of caulking compound.
A removable case containing the stylus and electric conversion circuitry in a phonograph pickup.

a. A case containing magnetic tape in a reel; a cassette.

b. A case containing a ribbon in a spool, for use in printers and electric typewriters.

A lightproof case with photographic film that can be loaded directly into a camera.
Origin of cartridge
Alteration of earlier
cartage
, alteration of French
cartouche
, from Italian
cartuccio
, variant of
cartoccio
,
roll of paper
; see
cartouche
.
---
cartridge
---
cartridge - Computer Definition
(1) See phono cartridge.
(2) A removable storage module that contains magnetic disks, optical discs, magnetic tape or memory chips. Cartridges are inserted into slots in the drive, printer or computer. Cartridges typically contain one reel of tape or one disk platter, while cassettes are for tape only and have a supply and takeup reel. Very often, tape cassettes are called cartridges. For a summary of removable tape, disk and optical cartridges, see magnetic tape, magnetic disk and optical disc.
---