bullet

bul·let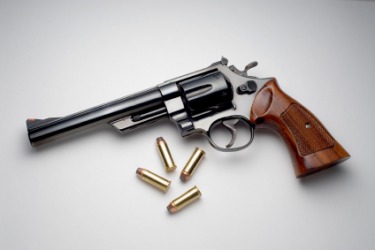 A revolver and the bullets it uses.
noun
The definition of a bullet is a small ball or cone-shaped projectile which is shot from a gun, or a solid dot at the beginning of a line of type for emphasis.

An example of a bullet is what is shot from a rifle.
---
bullet
a small ball or cone-shaped missile of lead, metal alloy, etc., to be shot from a firearm

loosely

a bullet in its casing; cartridge
anything like a bullet in shape, action, etc.
a solid dot used as at the beginning of a line for emphasis
a bullet-shaped symbol used to indicate a rapid increase in sales and airplay of musical recordings, videos, etc.
Origin of bullet
French
boulette,
diminutive of
boule
, a ball from Classical Latin
bulla
: see bull
bite the bullet
Informal
to confront a painful situation with fortitude or stoicism: from an earlier practice of having the patient bite down on a bullet during battlefield surgery when no anesthetic was available
---
bullet
noun
a. A usually metal projectile in the shape of a pointed cylinder or a ball that is expelled from a firearm, especially a rifle or handgun.

b. Such a projectile in a metal casing; a cartridge.

An object resembling a projectile in shape, action, or effect.
Printing A heavy dot (•) used to highlight a particular passage.
Origin of bullet
French
boulette
diminutive of
boule
ball
from
Old French
from
Latin
bulla
---
bullet

Noun
(plural bullets)
A projectile, usually of metal, shot from a gun at high speed.
(typography) A printed symbol in the form of a solid circle, (•), often used for marking items in a list. (see also bulleted)
(informal) An entire round of unfired ammunition for a firearm, including the projectile, the cartridge casing, the propellant charge, etc.
(banking, finance) A large scheduled repayment of the principal of a loan; a balloon payment.
A rejection letter, as for employment, admission to a school or a competition.

John's not going to any of his top schools; he got a bullet from the last of them yesterday.

(slang) One year of prison time
(slang) An ace (the playing card).
(figuratively) Anything that is projected extremely fast.
Verb
(third-person singular simple present bullets, present participle bulleting, simple past and past participle bulleted)
(informal) To draw attention to (text) by, or as if by, placing a graphic bullet in front of it.
(intransitive, informal) To speed, like a bullet.

Their debut started slow, but bulleted to number six in its fourth week.

(informal) To make a shot, especially with great speed.

He bulleted a header for his first score of the season.
Origin
From Middle French boulette.
---