noun
The definition of ammunition is any object that can be discharged from a weapon, launched, or exploded.

A grenade is an example of ammunition.

Ammunition is defined as something that you can use to get someone to do what you want.

An example of ammunition is when you know your little brother snuck in late and you threaten to tell on him if he doesn't make you breakfast.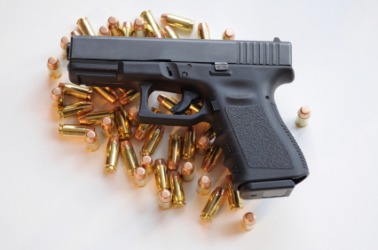 A gun with ammunition.
---
ammunition definition by Webster's New World
noun
Obsolete

any military supplies
anything hurled by a weapon or exploded as a weapon, as bullets, gunpowder, shot, shells, bombs, grenades, rockets, etc.
any means of attack or defense: the facts provided him with ammunition for his argument
Origin: French amunition, by faulty separation of la munition: see munitions
Webster's New World College Dictionary Copyright © 2010 by Wiley Publishing, Inc., Cleveland, Ohio. Used by arrangement with John Wiley & Sons, Inc.
---
ammunition definition by American Heritage Dictionary
noun
Projectiles, such as bullets and shot, together with their fuses and primers, that can be fired from guns or otherwise propelled.
Nuclear, biological, chemical, or explosive material, such as rockets or grenades, that are used as weapons.
An object used as a missile in offense or defense: Rocks were my only ammunition against the bear.
A means of attacking or defending an argument, thesis, or point of view.
Origin: Obsolete French amunition, from l'amunition, the provisioning, alteration of la munition, from Old French, from Latin mūnītiō, mūnītiōn-, fortification; see munition.