missile

mis·sile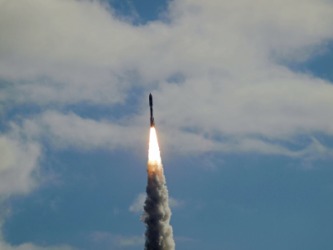 A missile being launched.
noun
The definition of a missile is something that's able to be launched, fired or shot into the air or at a target.

An example of a missile is a rocket.
---
missile
that can be, or is, thrown or shot, as from a gun

Rare

throwing or shooting missiles
Origin of missile
Classical Latin
missilis
from
missus
: see mission
a weapon or other object, as a spear, bullet, rocket, etc., designed to be thrown, fired, or launched toward a target; often, specif., a guided or ballistic missile
---
missile
noun
An object or weapon that is fired, thrown, dropped, or otherwise projected at a target; a projectile.
A guided missile.
A ballistic missile.
Origin of missile
Latin
from
neuter of
missilis
able to be thrown
from
missus
past participle of
mittere
to let go, throw
---
missile

Noun
(plural missiles)
An object intended to be launched into the air at a target.

That missile is explosive enough to kill hundreds.

(military) A self-propelled projectile whose trajectory can be adjusted after having been launched.
Origin
From Latin missilis ("that may be thrown"), neuter missile ("a weapon to be thrown, a javelin"), in plural missilia ("presents thrown among the people by the emperors"), from mittere ("to send").
---