rocket

rock·et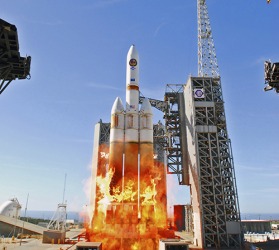 A Delta IV rocket launches from Vandenberg Air Force Base, California.
noun
The definition of a rocket is a long circular device that is launched into the air.

An example of a rocket is what helps launch a guided missile into space.
An example of a rocket is a firecracker.

Rocket is arugula, an edible leafy green with a slightly spicy flavor.

An example of rocket is an arugula salad.
verb
Rocket is defined as to rise quickly or launch ahead.

An example of rocket is a baseball player hitting a ball so hard it flies out of the park.
---
rocket
any of various devices, typically cylindrical, containing liquid or solid propellants which when ignited produce hot gases or ions that escape through a rear vent and drive the container forward by the principle of reaction: simple rockets are used mainly as fireworks, signals, and projectile weapons, while more complex rockets are used to propel guided missiles, ballistic missiles, and spacecraft
a spacecraft, missile, probe, etc. propelled by a rocket
Origin of rocket
Italian
rocchetta,
spool or bobbin, rocket, origin, originally diminutive of
rocca,
distaff from Old High German
roccho,
distaff: from the resemblance in shape
to go like a rocket; dart ahead swiftly
to travel in a rocket
to soar; rise rapidly: prices rocketed
to convey in a rocket
to attack by firing a rocket at
to propel with or as with sudden force: a hit song rocketing a singer to stardom
any of various plants of the crucifer family, with white, yellow, pink, or purple flowers; esp.,

sea rocket

(genus Cakile) found along seashores in Europe and North America
arugula
dame's violet
Origin of rocket
French
roquette
from Italian
rochetta,
variant, variety of
ruchetta,
diminutive from
ruca,
rocket from Classical Latin
eruca,
kind of colewort
---
rocket
noun
a. A rocket engine.

b. A vehicle or device propelled by one or more rocket engines, especially such a vehicle designed to travel through space.

A projectile weapon carrying a warhead that is powered and propelled by rockets.
A projectile firework having a cylindrical shape and a fuse that is lit from the rear.
verb
rock·et·ed, rock·et·ing, rock·ets
verb
intransitive
To move swiftly and powerfully, as a rocket
To fly swiftly straight up, as a game bird frightened from cover.
To soar or rise rapidly: The book rocketed to the top of the bestseller list.
verb
transitive
To carry by means of a rocket.
To assault with rockets.
Origin of rocket
Italian
rocchetta
diminutive of
rocca
spindle, distaff
of Germanic origin
noun
See arugula.
Any of several plants of the mustard family, especially the dame's rocket and the sea rocket.
Origin of rocket
Middle English
rokette
from
Old French
roquete
from
Italian
rochetta
variant of
ruchetta
diminutive of
ruca
arugula
from
Latin
ērūca
---
rocket

---