zoom

zoom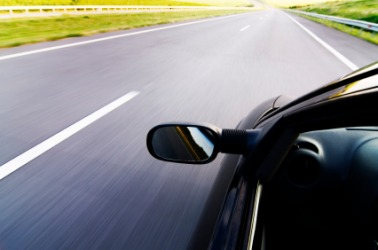 A car zooms down the road.
adjective
Zoom describes a lens with the ability to magnify a subject.

An example of zoom is a Nikon Coolpix L120; a camera with a zoom lens.
noun
The definition of a zoom is a low humming sound or the act of making this sound.

An example of a zoom is the sound a humming bird makes as it flies.
verb
Zoom is defined as to make or move with a buzzing sound.

An example of zoom is make the sound of a finely tuned car while driving.
---
zoom
to make a loud, low-pitched, buzzing or humming sound
to move with a zooming sound
to move or go quickly or suddenly
to climb in an airplane suddenly and sharply at an angle greater than normal, using the energy of momentum
to rise rapidly: prices zoomed
to change the focal length of a zoom lens so as to change the apparent distance of the object being viewed
Origin of zoom
echoic
the act of zooming
a zooming sound
zoom lens

Film

the effect of a camera moving toward or away from a subject by using a zoom lens
a shot using this effect
equipped with or having to do with a zoom lens: a zoom telescope
---
zoom
verb
zoomed, zoom·ing, zooms
verb
intransitive
a. To make a continuous low-pitched buzzing or humming sound: I heard a plane zooming overhead.

b. To move while making such a sound: couldn't hear as the motorcycle zoomed past.

To move rapidly: comets that zoom through space.
To increase suddenly and dramatically: Stock prices zoomed in early trading.
To act or proceed swiftly and energetically: zoomed through the novel in a day.
To simulate movement rapidly away from or toward a subject using a zoom lens or other optical device.
Computers To cause text or other graphics in a window or frame to appear larger on the screen.
verb
transitive
To cause to zoom.
noun
The act or sound of zooming.
A zoom lens.
Origin of zoom
Imitative
---
zoom

Verb
(third-person singular simple present zooms, present participle zooming, simple past and past participle zoomed)
to move fast with a humming noise
to fly an airplane straight up
to move rapidly
to go up sharply

prices zoomed

to change the focal length of a zoom lens
(used with in or out) to manipulate a display so as to magnify or shrink it
Origin
1892 verb, 1918 noun, 1942 interjection. Originally imitative of a sound.
---
zoom - Computer Definition
To change from a close-up view to a distant view (zoom out) or from a distant view to a close-up view (zoom in). An application may provide fixed or variable levels of zoom, and a graphics card may also have built-in zoom capability. All cameras have some zoom capability (see optical zoom and digital zoom).
---