speed

speed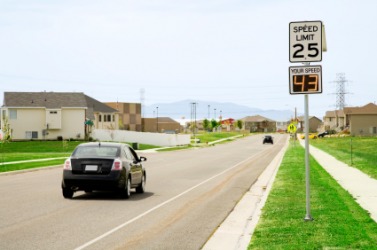 A sign shows this cars speed.
noun
Speed is a way of measuring how quickly something is moving or being done, or something moving fast.

An example of speed is a car being driven 45 miles per hour.
An example of speed is someone cleaning a room in 10 minutes.
An example of speed is how quickly a jaguar runs.

Speed is a slang term for the street drug methamphetamine.

An example of speed is a drug that increases energy, heart rate and makes it very difficult to eat or sleep.
verb
Speed is defined as to help someone or something along, or move too quickly.

An example of speed is a restaurant hostess putting regular customers at the top of a table waiting list.
An example of speed is driving 80 mph in a 50 mph zone.
---
speed
Archaic

luck; success; prosperity: to wish someone good speed
the act or state of moving rapidly; swiftness; quick motion

the rate of movement or motion; velocity (sense )
the magnitude of a velocity (sense )
the rate or rapidity of any action: reading speed

a gear or arrangement of gears for the drive of an engine or bicycle: a truck with five forward speeds

Informal

one's kind or level of taste, capability, etc.

Slang

any of various amphetamine compounds, esp. methedrine

Photog.

the sensitivity of film to light, expressed in various numerical scales
the widest effective aperture of a camera lens
the length of time the shutter is opened for an exposure
Origin of speed
Middle English
sped
from Old English
spæd,
wealth, power, success, akin to
spowan,
to prosper, succeed from Indo-European base an unverified form
sp?i-,
to flourish, expand from source space, spare
of or having to do with speed
intransitive verb
sped

or

speed′ed

,

speed′ing
to move rapidly, esp. more rapidly than is safe or allowed by law

Archaic

to get along; fare
to have fortune, good or bad
to have good fortune; prosper; succeed
to help (a project) to succeed; aid; promote
to wish Godspeed to: to speed the parting guest
to send, convey, or cause to move, go, etc. swiftly: to speed a letter on its way
to cause or design (a machine, etc.) to operate at a certain speed or speeds

Archaic

to cause to succeed or prosper
at speed
Chiefly Brit.
quickly; rapidly
speed up
to increase in speed; go or make go faster; accelerate
up to speed
working or operating at full speed, maximum efficiency, etc.

Informal

fully informed or having enough information
---
speed
noun
Physics The rate or a measure of the rate of motion, especially:

a. Distance traveled divided by the time of travel.

b. The limit of this quotient as the time of travel becomes vanishingly small; the first derivative of distance with respect to time.

c. The magnitude of a velocity.

Swiftness of action: He wrote the first chapter with great speed.

a. The act of moving rapidly: finished the race in a burst of speed.

b. The state of being in rapid motion; rapidity: The river's speed made a rescue difficult.

A transmission gear or set of gears in a motor vehicle: What speed is the car in now?

a. A numerical expression of the sensitivity of a photographic film, plate, or paper to light.

b. The capacity of a lens to accumulate light at an appropriate aperture.

c. The length of time required or permitted for a camera shutter to open and admit light.

Slang A stimulant drug, especially amphetamine or methamphetamine.
Slang One that suits or appeals to a person's inclinations, skills, or character: Living in a large city is not my speed.
Archaic Prosperity; luck.
verb
sped,
or
speed·ed
speed·ing, speeds
verb
intransitive
a. To go, move, or proceed quickly: sped to the rescue.

b. To drive at a speed exceeding a legal limit: was speeding on the freeway.

To pass quickly: The days sped by. The months have sped along.
To move, work, or happen at a faster rate; accelerate: His pulse speeded up.
Slang To be under the influence of a stimulant drug.
Archaic

a. To prove successful; prosper.

b. To get along in a specified manner; fare.
verb
transitive
To cause to move or proceed quickly; hasten: no wind to speed the boat.
To increase the speed or rate of; accelerate. Often used with up: speed up a car; sped up production.
To further, promote, or expedite (a legal action, for example).
Archaic To help to succeed or prosper; aid.
Origin of speed
Middle English
spede
from
Old English
spēd
success, swiftness
; see
spē-
in Indo-European roots.
---
speed

---
speed - Computer Definition
---