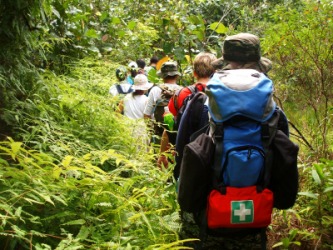 A group of people on a hiking expedition.
noun
The definition of an expedition is a journey that is taken to accomplish a specific goal, or the people who go on the journey.

An example of an expedition is when Lewis and Clark went to explore newly acquired land in America.
---
expedition
a sending forth or starting out on a journey, voyage, march, etc. for some definite purpose, as exploration or battle
the journey, etc. itself
the people, ships, equipment, etc. on such a journey

efficient speed; dispatch
Origin of expedition
Middle English
expedicioun
from Old French
expedition
from Classical Latin
expeditio
from past participle of
expedire
: see expedite
---
expedition
noun
a. A journey, especially an arduous or hazardous one, undertaken with extensive planning and a definite objective: an expedition against the enemy stronghold; a scientific expedition to the South Pole.

b. The people undertaking such a journey, considered as a group.

An outing undertaken with a definite objective: a shopping expedition.
Speed or promptness in performance. See Synonyms at haste.
Origin of expedition
Middle English
expedicioun
military campaign
from
Old French
expedition
from
Latin
expedītiō
expedītiōn-
from
expedītus
past participle of
expedīre
to make ready
; see
expedite
.
---
expedition

Noun
(plural expeditions)
1749, Henry Fielding, Tom Jones, Folio Society 1973, p. 331:

he presently exerted his utmost agility, and with surprizing expedition ascended the hill.

A sending forth or setting forth the execution of some object of consequence; progress.
An important enterprise, implying a change of place; especially, a warlike enterprise; a march or a voyage with martial intentions; an excursion by a body of persons for a valuable end; as, a military, naval, exploring, or scientific expedition.
The body of persons making such excursion.
---