precipitous
pre·cip·i·tous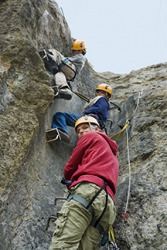 A family climbing a precipitous cliff.
adjective
The definition of precipitous is something very steep.

An example of precipitous is a cliff that requires climbing gear to get to the top.
---
precipitous
steep like a precipice; sheer
having precipices
precipitate
Origin of precipitous
Middle French
precipiteux
from Late Latin an unverified form
precipitosus
from Classical Latin
praeceps:
see precipice
---
precipitous
adjective
Resembling a precipice; extremely steep. See Synonyms at steep1.
Having several precipices: a precipitous bluff.
Extremely rapid, hasty, or abrupt; precipitate: a precipitous collapse in prices. See Usage Note at precipitate.
Origin of precipitous
Probably from
obsolete
precipitious
from
Latin
praecipitium
precipice
; see
precipice
.
Related Forms:
---
precipitous

Adjective
Headlong; as, precipitous fall.
Hasty; rash; quick; sudden; precipitate; as, precipitous attempts.
Part or all of this entry has been imported from the 1913 edition of Webster's Dictionary, which is now free of copyright and hence in the public domain. The imported definitions may be significantly out of date, and any more recent senses may be completely missing.
---