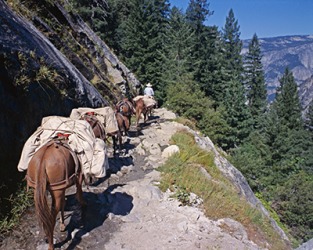 The sheer drop off on the trail in Merced Valley, Yosemite Park makes for a beautiful but tense ride.
adjective
Sheer is defined as a very thin, or extremely steep.

An example of sheer is the veil covering the face of a bride on her wedding day.
An example of sheer is the front of a cliff that goes straight up and down.
noun
The definition of sheer is a quick and sudden turn.

An example of a sheer is a bicycle rider making an unexpected turn.
verb
The definition of sheer is to make a sudden and sharp turn.

An example of sheer is turning your car sharply in order to keep from hitting a deer in the road.
---
sheer
to turn aside sharply from a course; swerve
Origin of sheer
variant, variety of shear, probably influenced, influence by Dutch or Low German
scheren
, to cut, deviate, warp away
a sudden change of course; abrupt turn; swerve
the oblique heading or position of a ship riding at a single bow anchor
the upward curve of a ship's deck toward the bow and stern, as seen from the side
very thin; transparent; diaphanous: said of textiles
not mixed or mingled with anything else; pure: sheer ice
absolute; downright; unqualified; utter: sheer persistence
perpendicular or extremely steep, as the face of a cliff
Origin of sheer
Middle English
schere
, probably variant, variety of
scere
, free, exempt from Old Norse
skærr
, bright, clear, akin to German
schier
: for Indo-European base see shine
completely; utterly; outright
perpendicularly or very steeply
thin, fine material, or a curtain, etc. made of it
---
sheer
intr. & tr.v.
sheered, sheer·ing, sheers
To swerve or cause to swerve from a course.
noun
A swerving or deviating course.

a. The upward curve or amount of upward curve of the longitudinal lines of a ship's hull as viewed from the side.

b. The position in which a ship at anchor is maintained in order to keep it clear of the anchor.
Origin of sheer
Probably partly from
Low German
scheren
to move to and fro (said of boats)
and partly from
Dutch
scheren
to withdraw
; see
sker-
1
in Indo-European roots.
adjective
sheer·er, sheer·est
Thin, fine, and translucent: sheer curtains; sheer chiffon. See Synonyms at airy.

a. Completely such, without qualification or exception: sheer stupidity; sheer happiness.

b. Free from admixture or adulterants; unmixed: sheer alcohol.

c. Considered or operating apart from anything else: got the job through sheer persistence.

Almost perpendicular; steep: sheer rock cliffs. See Synonyms at steep 1.
adverb
Almost perpendicularly.
Completely; altogether.
noun
One that is sheer, such as a curtain.
Origin of sheer
Obsolete
shere
thin, clear
partly from
Middle English
shir
bright, clear
(
from
Old English
scīr
)
and partly from
Middle English
skir
bright, clean
(
from
Old Norse
skærr
)
Related Forms:
---
sheer

Adjective
(comparative sheerer or more sheer, superlative sheerest or most sheer)
(textiles) Very thin or transparent.

Her light, sheer dress caught everyone's attention.

Shakespeare

Thou sheer, immaculate, and silver fountain.

Being only what it seems to be; mere.

I think it is sheer genius to invent such a thing.
This poem is sheer nonsense.

Very steep; almost vertical or perpendicular.

It was a sheer drop of 180 feet.

Used to emphasize the amount or degree of something.

Through technological wizardry and sheer audacity, Google has shown how we can transform the intellectual riches of our libraries [...] .
Origin
From Middle English shere, scheere, schere, skere, from Old English *scÇ£re; merged with Middle English shire, schire, schyre, shir, from Old English scÄ«r ("clear, bright; brilliant, gleaming, shining, splendid, resplendent; pure") and Old Norse skírr ("pure, bright, clear") , both from Proto-Germanic *skÄ«riz ("pure, sheer") and *skairiz, from Proto-Indo-European *sḱēy- ("luster, gloss, shadow"). Cognate with Danish skær, German schier ("sheer"), Dutch schier ("almost"), Gothic 𐍃𐌺𐌴𐌹𐍂𐍃 (skeirs, "clear, lucid"). Outside Germanic, cognate to Albanian hirrë ("whey, serum").
Verb
(third-person singular simple present sheers, present participle sheering, simple past and past participle sheered)
(chiefly nautical) To swerve from a course.

A horse sheers at a bicycle.
---