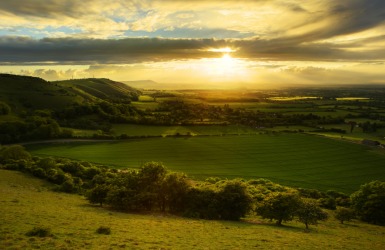 Sunset over a shire.
noun
Shire is defined as very rural parts of England or to counties in England.

An area in the rural midlands of England is an example of a shire.
---
shire
any of the former districts or regions in Great Britain
any of the counties of England, esp. one with a name ending in -shire
any of a breed of large, powerful draft horse with feathery fetlocks, originally raised in the Shires and much used in the Middle Ages as a war horse
Origin of shire
Middle English from Old English
scir
, office, charge, akin to Old High German
sc?ra
, official charge
the Shires
the counties of EC England, esp. Cambridgeshire and Lincolnshire
Shire
river in SE Africa, flowing from Lake Malawi south into the Zambezi: c. 250 mi (402 km)
---
shire
noun
A former administrative division of Great Britain, equivalent to a county.
often Shire A Shire horse.
Origin of shire
Middle English
from
Old English
scīr
official charge, administrative district
---
shire

Noun
(plural shires)
Former administrative area of Britain; a county.

Yorkshire is the largest shire in England.

(UK, colloquial) The general area in which a person lives, used in the context of travel within the UK:

"When are you coming back to the shire?"

A shire horse
---