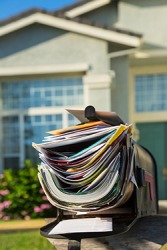 She had a slew of mail in her mailbox when she returned home after being on vacation for a week.
noun
The definition of a slew is a large quantity of something.

When you have 200 pairs of shoes, this is an example of a situation where you have a slew of shoes.
verb
Slew means to slide or skid uncontrollably in a particular direction.

When a van begins to slide uncontrollably left because of ice, this is an example of slew.
---
slew
alt. sp. of slough (sense )
Informal
a large number, group, or amount:
a slew of reporters at the crime scene
Origin of slew
Irish
sluagh
, a host
---
slew
also slue
noun
Informal
A large amount or number; a lot: a slew of unpaid bills.
Origin of slew
Irish Gaelic
sluagh
multitude
from
Old Irish
slúag
also slue
verb
transitive
slewed, slew·ing, slews,
also
slued
slu·ing
slues
To turn (something) on an axis; rotate: slewed the swivel chair around; slewing the boom of a crane.
To turn sharply; veer: braked and slewed the car around.
verb
intransitive
To turn about an axis: "The violet eyes slewed from door to window as if desperate for escape" ( P.D. James )
To turn or slide sideways or off course; skid.
noun
The act of slewing.
Origin of slew
Origin unknown
---
slew

---