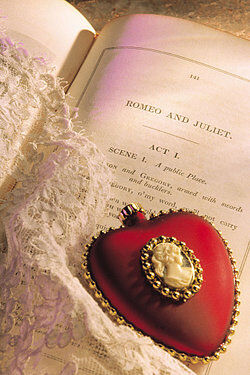 Tone gives shape and life to a story. Through tone, the attitude and mood of a literary work are created and presented. It gives voice to the characters, both literally and figuratively.
Tone also allows the reader to learn about a character's personality and disposition. But, beyond all this, tone shapes the work as a whole, indicating if the piece should be read as serious, funny, dramatic or upsetting.
Tone word examples are present everywhere in the media and real life. Let's take a look at it, from an ordinary sense and a literary viewpoint.
A good way to uncover the depths of tone is to try writing in different mediums. Even if your dream is to be published in an anthology of short stories, practice writing in other formats too. Write a news story; write a poem; write an opinion piece. This will help you adopt different tones and allow you to move gracefully through all of your creations.

Let's explore the various tones words can take on:
| | |
| --- | --- |
| Words with a Funny Tone | Meaning |
| | So impossible, it's funny |
| | Watching or hearing something funny |
| | To be lively |
| | Cheerful; carefree |
| | Agreeable; amusing |
| | Great excitement |
| | Exaggerated to the point of being ridiculous |
| | Someone or something very funny |
| | Extremely funny |
| | Something hard to believe |
| | Prone to joking |
| | Expressing delight or happiness |
| | Deserving of laughter |
| | Festive; full of fun |
| | Something said or done in a joking way |
| | Boisterous; uproarious |
| | Humor or irony that's sarcastic |
| | Absurdity; foolishness |
| | Funny; clever |
| | |
| --- | --- |
| Words with a Serious Tone | Meaning |
| | A lack of feeling or emotion |
| | Something very somber |
| | Practical; unemotional |
| | Obedient |
| | Acting with a superior attitude |
| | Deep in thought or meditation |
| | Full of hatred |
| | Careful analysis and judgment |
| | To out someone down |
| | Gloom; dejection |
| | Serious; solemn; sedate |
| | Stern; unmoving |
| | Deep in thought |
| | Calm; rational |
| | Practical; logical |
| | Calm; reserved |
| | Serious; sincere |
| | Very serious; strict |
| | Sad |
| | |
| --- | --- |
| Words with a Sad Tone | Meaning |
| | Gloomy; somber |
| | Discouraging; disheartening |
| | Causing sadness or dejection |
| | Insulting; ridiculing |
| | Unhappy; dissatisfied; angry |
| | Gloomy; sad |
| | Conceited; vain |
| | Joking at an inappropriate time |
| | An arrogant person |
| | Aggressive; angry; unfriendly |
| | Dumb; pointless; silly |
| | Showing anger over something unjust |
| | Sad; depressed |
| | Sad; gloomy |
| | Threatening; dangerous |
| | Gruesome; grisly |
| | Holding a grudge |
| | Threat or harm |
| | |
| --- | --- |
| Words with an Upbeat Tone | Meaning |
| | Friendly; easy to talk to |
| | Kind; charitable |
| | Without worry |
| | Sympathy; an urge to help |
| | Trying to make someone feel better |
| | Worth; nobility; self-respect |
| | Passive; easily teachable |
| | Energized; excited; happy |
| | Great excitement; enthusiasm |
| | Cheerful; celebratory |
| | Funny; comical |
| | Happiness; cheerfulness |
| | Without trouble or worry |
| | Being positive or hopeful about the future |
| | Awe; respect |
| | Cheerful; confident; optimistic |
| | Untroubled |
| | Feeling compassion |
| | Playful; out of the ordinary |
Let's explore various examples of tone from literary masterpieces.
The Catcher in the Rye
, J.D. Salinger
"If a girl looks swell when she meets you, who gives a damn if she's late? Nobody."
One of the most well-known characters in all of literature, Holden Caulfield, has an undeniable tone in The Catcher in the Rye by J.D. Salinger. He's sarcastic, tough, and inquisitive. That's exactly what Salinger's purpose was. He wanted to write a coming of age narrative about a boy navigating through life alone and observing and criticizing the world around him.
Frankenstein
, Mary Shelley
"Life and death appeared to me ideal bounds, which I should first break through, and pour a torrent of light into our dark world."
Victor speaks these words at the very beginning of the novel, setting an ominous mood for the rest of the tale.
A Midsummer Night's Dream
, William Shakespeare
"The course of true love never did run smooth."
In a different context, this quotation would be full of woe and misery. However, although Lysander is making comments about troubles with love, the reality is the words are spoken by a comic character indicating the play is sure to be full of perplexing yet light trials of love. This is William Shakespeare at his best.
The Second Coming
, W.B. Yeats
"Mere anarchy is loosed upon the world."
In this one line by W.B. Yeats, the words anarchy loosed upon the world create a sense of fear and foreboding.
The Road Not Taken
, Robert Frost
"I shall be telling this with a sigh
Somewhere ages and ages hence:
Two roads diverged in a wood, and I,
I took the one less traveled by,
And that has made all the difference."
This sums up the poem and the effect of tone in general. Robert Frost is commonly interpreted as looking back on his experience with joy. However, in this instance, Frost isn't thrilled with some choice he made in the past.
What's the Difference Between Tone, Mood, and Voice?
Each of these elements of a story are shades of the same color, but there are differences. When discussing various literary elements, it's advantageous to be precise with terminology.
Tone is the writer's attitude. The tone will set up a suspenseful novel, a hopeful opinion piece, or a melancholy poem.
While tone stems from the author, mood can be attributed to the reader. The writer's tone will illustrate various feelings or emotions, and the reader will develop those emotions and process them in the form of their own mood. Typically, of course, it'll line up with the author's tone. If the author is writing a piece on hope and everlasting love, the reader's mood will align accordingly. If the author's tone is melancholy and dreary as the main character scrapes by in matters of love and war, the reader's mood will shift accordingly.
Voice is harder to pinpoint. Every writer has their own voice. That is, you can pick up on common catch phrases or repeated themes in their works. In a way, voice is the umbrella under which tone and mood develop. A writer's specific voice will connotate a somber tone or an upbeat tone in a way that will allow the reader to experience a dismal mood or a hopeful mood. Explore this concept further with words that describe voice.
Conversations in everyday life and much of what we read has a tone. Sometimes, as in the Frost example, tone isn't always easy to decipher. More, people might perceive an everyday encounter or an author's tone in different ways.
This is why literary analysis is so thrilling. A writer might paint a passage with a specific intention, or tone, in mind. Meanwhile, it could go on to create a whole slew of mixed moods from the audience. Different perceptions in tone and mood can elevate book club meetings to something resembling a professional wrestling match. Whose perception is right? For more on the subject, take a look at this guide to writing a book review.