bushel

bush·el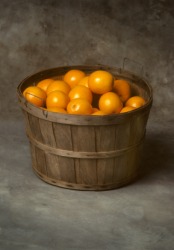 This bushelbasket contains a bushel of oranges.
noun
The definition of a bushel is a U.S. measure used for dry goods that is equal to 64 pints, or a British measure for dry goods and liquids that is equal to 8 imperial gallons, or an informal way of saying a large amount.

When you have 64 pints of wheat, this is an example of a bushel of wheat.
When you have 8 imperial gallons of maple syrup, this is an example of a bushel.
When you have a lot of money, this is an example of a bushel of money.
---
bushel
a unit of dry measure for grain, fruit, etc., equal to 32 dry quarts or 4 pecks (35.2384 dry liters or 1.2445 cubic feet): abbrev. bu
a container holding one bushel
a weight taken as the equivalent of one bushel

Informal

a large amount Abbrev. bu
Origin of bushel
Middle English
busshel
from Old French
boissel
from
boisse,
grain measure from Gaulish an unverified form
bostia,
handful from an unverified form
bosta,
palm of the hand
transitive verb
intransitive verb
-·eled

or

-·elled

,

-·el·ing

or

-·el·ling
to repair, renovate, or alter (esp. garments)
Origin of bushel
from uncertain or unknown; perhaps German
bosseln,
to patch up, repair
---
bushel
noun
Abbr. bu.

a. A unit of volume or capacity in the US Customary System, used in dry measure and equal to 4 pecks, 2,150.42 cubic inches, or 35.24 liters.

b. A unit of volume or capacity in the British Imperial System, used in dry and liquid measure and equal to 2,219.36 cubic inches or 36.37 liters.

A container with the capacity of a bushel.
Informal A large amount; a great deal: We have bushels of time, so relax.
Origin of bushel
Middle English
from
Anglo-Norman
bussel
variant of
Old French
boissiel
from
boisse
one sixth of a bushel
of Celtic origin
transitive verb
bush·eled, bush·el·ing, bush·els,
or
bush·elled
bush·el·ling
To alter or mend (clothing).
Origin of bushel
Probably from
German
bosseln
to do odd jobs
alteration
(
perhaps influenced by
bosseln
to emboss
)
of
basteln
to rig up, mend
probably from
Bast
bast fiber (used to make rope)
from
Middle High German
bast
from
Old High German
Related Forms:
bush′el·er bush′el·ler

noun
---
bushel

Noun
(plural bushels)
A dry measure, containing four pecks, eight gallons (36.4 L), or thirty-two quarts.

The Winchester bushel, formerly used in England, contained 2150.42 cubic inches, being the volume of a cylinder 181/2 inches in internal diameter and eight inches in depth. The standard bushel measures, prepared by the United States Government and distributed to the States, hold each 77.6274 pounds of distilled water, at 39.8° Fahr. and 30 inches atmospheric pressure, being the equivalent of the Winchester bushel. The imperial bushel now in use in England is larger than the Winchester bushel, containing 2218.2 cubic inches, or 80 pounds of water at 62° Fahr.

A vessel of the capacity of a bushel, used in measuring; a bushel measure.
A quantity that fills a bushel measure; as, a heap containing ten bushels of apples.

In the United States a large number of articles, bought and sold by the bushel, are measured by weighing, the number of pounds that make a bushel being determined by State law or by local custom. For some articles, as apples, potatoes, etc., heaped measure is required in measuring a bushel.

(colloquial) A large indefinite quantity.
The iron lining in the nave of a wheel. [Eng.] In the United States it is called a box.
---