load

load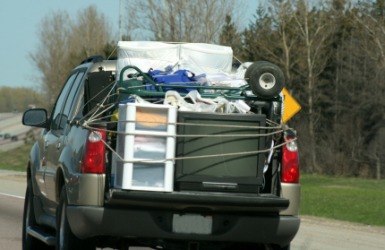 A truck carrying a full load.
noun
The definition of a load is something that a person, animal or thing is carrying.

An example of load is furniture stacked into a moving van.
verb
Load is defined as to fill something up or to provide with an excess.

An example of load is to pile a truck with furniture.
An example of load is to fill up on cheeseburgers and fries.
---
load
something carried or to be carried at one time or in one trip; burden; cargo
the amount that can be or usually is carried: a measure of weight or quantity varying with the type of conveyance, often used in comb.: a carload of coal
something carried with difficulty; specif.,

a heavy burden or weight
a great mental or spiritual burden: a load off one's mind

the weight that a structure bears or the stresses that are put upon it
a single charge, as of powder and bullets, for a firearm
the amount of work carried by or assigned to a person, group, etc.: the course load of a student, the caseload of a social worker
[often pl.]

Informal

a great amount or number: loads of friends

Elec.

the amount of power delivered by a generator, motor, etc. or carried by a circuit
a device to which this power is delivered

Finance

an amount, expressed as a percentage of the net asset value, added to the price of some mutual fund shares to cover sales commissions and other marketing costs

Mech.

the rate at which work is done by an engine, etc.; specif., the external resistance offered to an engine by the machine that it is operating
Origin of load
Middle English
lode
from Old English
lad
, a course, way, journey from Germanic an unverified form
laid?
, way from Indo-European base an unverified form
leit(h)-
, to go, leave from source lead, Old Norse
litha
, Gothic
galeithan
, to go: sense influenced, influence by Middle English
laden
, lade
to put something to be carried into or upon; esp., to fill or cover with as much as can be carried: to load a wagon with wheat
to put into or upon a carrier: to load coal into a truck
to weigh down with or as with a heavy load; burden; oppress
to supply in large quantities; give much of something to: to load a person with honors, a novel loaded with suspense
to put ammunition into (a firearm, etc.)
to put (a roll of film or a plate) into (a camera)
to add weight to, esp. so as to make one end or one side heavier: dice fraudulently loaded to fall with a certain face up
to add extra or excessive costs, profits, etc. to: to load an expense account
to add (an adulterant, filler, etc.) to
to phrase (a question, etc.) so as to elicit a desired answer or reaction

Baseball

to have or cause to have runners on (first, second, and third bases)

Comput.

to transfer (a program or data) into main memory from a disk, tape, etc.
to put a charge of ammunition into a firearm
to receive a charge of ammunition: mortars that load at the muzzle
to put on, receive, or take on passengers, goods, fuel, etc.: the bus is loading now
get a load of
Slang
to listen to or hear
to look at or see
---
load
noun
a. A weight or mass that is supported: the load on an arch.

b. The overall force to which a structure is subjected in supporting a weight or mass or in resisting externally applied forces.

a. Something that is carried, as by a vehicle, person, or animal: a load of firewood.

b. The quantity that is or can be carried at one time.

a. The share of work allocated to or required of a person, machine, group, or organization.

b. The demand for services or performance made on a machine or system.

The amount of material that can be inserted into a device or machine at one time: The washing machine has a full load.

a. A single charge of ammunition for a firearm.

b. Vulgar Slang An ejaculation of semen.

a. A mental weight or burden: Good news took a load off my mind.

b. A responsibility regarded as oppressive.

The external mechanical resistance against which a machine acts.
Electricity

a. The power output of a generator or power plant.

b. A device or the resistance of a device to which power is delivered.

A fee that a mutual fund charges to an investor when the investor purchases or redeems shares in the fund.
often loads Informal A great number or amount: There were loads of people at the parade.
Derogatory Slang A heavy or overweight person.
Genetic load.
verb
load·ed, load·ing, loads
verb
transitive
a. To put (something) into or onto a structure or conveyance: loading grain onto a train.

b. To put something into or onto (a structure or conveyance): loaded the tanker with crude oil.

To provide or fill nearly to overflowing; heap: loaded the table with food.
To give worries or difficulties to; weigh down; burden: was loaded with responsibility.
To insert (a necessary material) into a device: loaded rounds into the rifle.
To insert a necessary material into: loaded the printer with paper.
Games To make (dice) heavier on one side by adding weight.
To charge with additional meanings, implications, or emotional import: loaded the question to trick the witness.
To raise the power demand in (an electrical circuit), as by adding resistance.
To increase (an insurance premium or mutual fund share price) by adding expenses or sale costs.
Baseball To have or put runners on (first, second, and third base).
Computers To transfer (data) from a storage device into a computer's memory.
verb
intransitive
To receive a load: Container ships can load rapidly.
To charge a firearm with ammunition.
To put or place a load into or onto a structure, device, or conveyance.
Computers To be transferred from a storage device into a computer's memory.
Origin of load
Middle English
lode
alteration
(
influenced by
laden
to load
)
of
lade
course, way
from
Old English
lād
; see
leit-
in Indo-European roots.
---
load

Noun
(plural loads)
A burden; a weight to be carried.

I struggled up the hill with the heavy load in my rucksack.

(figuratively) A worry or concern to be endured, especially in the phrase a load off one's mind.
A certain number of articles or quantity of material that can be transported or processed at one time.

The truck overturned while carrying a full load of oil.
She put another load of clothes in the washing machine.

(in combination) Used to form nouns that indicate a large quantity, often corresponding to the capacity of a vehicle
(often in the plural, colloquial) A large number or amount.

I got loads of presents for my birthday!
I got a load of emails about that.

The volume of work required to be performed.

Will our web servers be able to cope with that load?

(engineering) The force exerted on a structural component such as a beam, girder, cable etc.

Each of the cross-members must withstand a tensile load of 1,000 newtons.

(electrical engineering) The electrical current or power delivered by a device.

I'm worried that the load on that transformer will be too high.

(engineering) The work done by a steam engine or other prime mover when working.
(electrical engineering) Any component that draws current or power from an electrical circuit.

Connect a second 24 ohm load across the power supply's output terminals.

(vulgar, slang) The semen of an ejaculation.
Verb
(third-person singular simple present loads, present participle loading, simple past loaded, past participle loaded or archaic loaden)
To put a load on or in (a means of conveyance or a place of storage).

The dock workers refused to load the ship.

To place in or on a conveyance or a place of storage.

The longshoremen loaded the cargo quickly.
He loaded his stuff into his storage locker.

(intransitive) To put a load on something.

The truck was supposed to leave at dawn, but in fact we spent all morning loading.

(intransitive) To receive a load.

The truck is designed to load easily.

(intransitive) To be placed into storage or conveyance.

The containers load quickly and easily.

To fill (a firearm or artillery) with munition.

I pulled the trigger, but nothing happened. I had forgotten to load the gun.

To insert (an item or items) into an apparatus so as to ready it for operation, such as a reel of film into a camera, sheets of paper into a printer etc.

Now that you've loaded the film you're ready to start shooting.

To fill (an apparatus) with raw material.

The workers loaded the blast furnace with coke and ore.

(intransitive) To be put into use in an apparatus.

The cartridge was designed to load easily.

(computing) To read (data or a program) from a storage medium into computer memory.

Click OK to load the selected data.

(intransitive, computing) To transfer from a storage medium into computer memory.

This program takes an age to load.

To tamper with so as to produce a biased outcome.

You can load the dice in your favour by researching the company before your interview.
The wording of the ballot paper loaded the vote in favour of the Conservative candidate.

To ask or adapt a question so that it will be more likely to be answered in a certain way.
To encumber with something negative.

The new owners had loaded the company with debt.

To place as an encumbrance.

The new owners loaded debt on the company.

To provide in abundance.

He loaded his system with carbs before the marathon.
He loaded carbs into his system before the marathon.
Origin
From Middle English lode, loade, from Old English lād ("course, journey; way, street, waterway; leading, carrying; maintenance, support"), from Proto-Germanic *laidō ("leading, way"), from Proto-Indo-European *leit- ("to go, go forth, die"), from Proto-Indo-European *lei- ("to be slimy, be sticky, slide, glide, stroke"). Etymologically identical with lode, which preserved the older meaning. Cognate with Middle Low German leide ("entourage, escort"), German Leite ("line, course, load"), Swedish led ("way, trail, line"), Icelandic leið ("way, course, route"). The sense of "˜burden' developed in the 13th century.
The verb load "˜to charge with a load' is derived from the noun, in the 16th century, and was influenced by the etymologically unrelated lade, which it largely supplanted.
---
load - Computer Definition

The amount of traffic placed on a circuit or system.
In reference to a load coil, or loading coil, which acts as a lumped inductor to compensate for capacitance on a long twisted pair copper circuit. See also loading coil.
The amount of force or weight on a cable. Dynamic load refers to the short-term load placed on a cable during installation. Static load refers to the long-term load placed on a cable, such as a riser cable, which hangs vertically. See also bend diameter and tensile strength.
---
(1) To copy a program from a storage drive or the network into RAM for execution. In the early days, programs were loaded first and then run. Today, when referring to applications, loading implies load and run. The phrases "load the app," "run the app," "launch the app" and "open the app" are all used synonymously. People often use the term erroneously to refer to installations; therefore, "load the program" may also mean "install the program." See install program and open.
(2) To copy data or programs onto a drive.
(3) To insert a removable cartridge into a drive.
(4) To insert a flash drive into a USB port.
(5) In programming, to store data in a register.
(6) In performance measurement, the current use of a system as a percentage of total capacity.
(7) The flow of current through a circuit. The load is the amount of power used by electrical and electronic equipment.
(8) The volume of traffic in a network.
---
load - Investment & Finance Definition
A charge added to the sale of shares in a mutual fund. The load covers sales commissions and other market costs. A mutual fund without a sales charge is called a no-load mutual fund. Typically loads range from 0.5% to 2.0% of the mutual fund's assets under management.
---