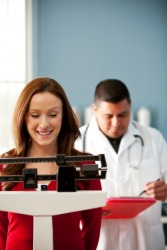 A doctor checks a woman's weight.
noun
Weight is how heavy something is or how much mass it has.

An example of weight is when a person is 100 pounds.
---
weight
a portion or quantity weighing a definite or specified amount: ten pounds weight of lead

heaviness as a quality of things

Physics

the force of gravity acting on a body, equal to the mass of the body multiplied by the acceleration of gravity

quantity or amount of heaviness; how much a thing weighs
the amount a specified thing should weigh

any unit of heaviness or mass
any system of such units: troy weight, avoirdupois weight
a piece, as of metal, of a specific standard heaviness, used on a balance or scale in weighing

any block or mass of material used for its heaviness; specif.,

one used to hold light things down or in position: a paperweight
one used to drive a mechanism: the weights in a clock
one used to maintain balance: weights placed on an automobile wheel
one of a particular heaviness, lifted as an athletic exercise

any heavy thing or load
a burden or oppressiveness, as of responsibility or sorrow

importance or consequence: a matter of great weight
influence, power, or authority: to throw one's weight to the losing side
the relative thickness or heaviness of a fabric or an article of clothing as proper to a particular season, use, etc.: a suit of summer weight

Printing

the relative thickness of the lines in type fonts

Sports

any of the several classifications into which boxers and wrestlers are placed according to how much they weigh
the number of pounds a horse is required to carry for a particular race, including the weight of the jockey, the saddle, and, often, added lead weights

Statistics

a constant assigned to a single item in a frequency distribution, indicative of the item's relative importance
Origin of weight
Middle English
weiht
, altered (infl. by
weien
, weigh) from Old English
wiht
from
wegan
: see weigh
to add weight to; make heavy or heavier
to burden; load down; oppress
to treat (thread or fabric) with a solution of metallic salts, in order to increase its weight
to manage, control, or influence in a particular direction or so as to favor a particular side; slant: the evidence was weighted against the defendant

Statistics

to assign a weight to in a frequency distribution
by weight
as determined by weighing
carry weight
to be important, influential, etc.
throw one's weight around
to take undue advantage of one's authority or rank; be overbearing
---
weight
noun
Abbr.
wt.
or
w
A measure of the heaviness of an object: a contest to guess the weight of a pig.
The force with which a body is attracted to Earth or another celestial body, equal to the product of the object's mass and the acceleration of gravity.

a. A unit measure of gravitational force: a table of weights and measures.

b. A system of such measures: avoirdupois weight; troy weight.

An object used principally to exert a force by virtue of its gravitational attraction to Earth, especially:

a. A metallic solid used as a standard of comparison in weighing.

b. An object used to hold something else down.

c. A counterbalance in a machine.

d. Sports A heavy object, such as a dumbbell, lifted for exercise or in athletic competition.

Excessive fat; corpulence: exercising in order to lose weight.
Statistics A factor assigned to a number in a computation, as in determining an average, to increase or decrease the number's effect on the computation, reflecting its importance.
Oppressiveness; pressure: the weight of responsibilities.
The greater part; preponderance: The weight of the evidence is against the defendant.

a.

Influence, importance, or authority:

Her approval carried great weight.

See Synonyms at

importance

.

b. Ponderous quality: the weight of the speaker's words.

Sports A classification according to comparative lightness or heaviness. Often used in combination: a heavyweight boxer.

a. The heaviness or thickness of a fabric in relation to a particular season or use. Often used in combination: a summerweight jacket.

b. A measure of the relative thickness of yarn.
transitive verb
weight·ed, weight·ing, weights
To make heavy or heavier: Our backpacks were weighted down with food and other essentials.
To cause to feel concerned, sad, or preoccupied; burden or oppress: He was weighted with guilt.
To increase the weight or body of (fabrics) by treating with chemicals.
Statistics To assign weights or a weight to.
To cause to have a slant or bias: weighted the rules in favor of homeowners.
Sports To assign to (a horse) the weight it must carry as a handicap in a race.
Origin of weight
Middle English
wight
from
Old English
wiht
; see
wegh-
in Indo-European roots.
---
weight

Noun
(plural weights)
The force on an object due to the gravitational attraction between it and the Earth (whatever astronomical object it is primarily influenced by).
An object used to make something heavier.
A standardized block of metal used in a balance to measure the mass of another object.
Importance or influence.
(physics) Mass (net weight, atomic weight, molecular weight, troy weight, carat weight, etc.).
(statistics) A variable which multiplies a value for ease of statistical manipulation.
(topology) The smallest cardinality of a base.
(visual art) The relative thickness of a drawn rule or painted brushstroke, line weight.
The resistance against which a machine acts, as opposed to the power which moves it.
Verb
(third-person singular simple present weights, present participle weighting, simple past and past participle weighted)
Origin
From Old English wiht, Ä¡ewiht, from Proto-Germanic *wihtiz, *(ga)wekhtiz (cf. *weganÄ…). Compare Dutch gewicht, German Gewicht.
---