power

pow·er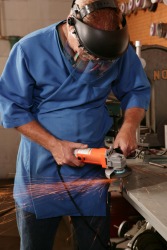 This tool uses electrical power.
adjective
The definition of power is operating electrically or having strength or force.

An example of power is the functioning of a gasoline-driven saw or tool.
An example of power is a big game move.
noun
Power is defined as the ability to act or have influence over others.

An example of power is the strength needed to run five miles.
An example of power is the authority a local government has to collect taxes.
verb
Power means to supply with energy or force.

An example of power is to start up an engine.
---
power
ability to do, act, or produce
a specific ability or faculty: the power of hearing
great ability to do, act, or affect strongly; vigor; force; strength

the ability to control others; authority; sway; influence
[pl.] special authority assigned to or exercised by a person or group holding office
legal ability or authority; also, a document giving it

a source of physical or mechanical force or energy; force or energy that is at, or can be put to, work: electric power, water power
the rate at which work is done: abbrev. P
a person or thing having great influence, force, or authority
a nation, esp. one having influence or domination over other nations: a treaty with foreign powers
national might or political strength
a spirit or divinity

Dial.

a large number or quantity (of something specified)

Archaic

an armed force; army; navy
military strength: air power

Math.

the product of the multiplication of a quantity by itself: 4 is the second power of 2 (2)
exponent (sense )

Optics

the degree of magnification of a lens, microscope, telescope, etc., expressed as a ratio of the diameters of image and object
Origin of power
Middle English
pouer
from Old French
poeir
, earlier
poter
, origin, originally infinitive from Vulgar Latin an unverified form
potere
, to be able, for Classical Latin
posse
, to be able: see potent
to supply with power or with a source of power
operated by electricity, a fuel engine, etc.: power tools, a power mower
served by an auxiliary, engine-powered system that reduces the effort of the operation: power steering
producing or carrying electricity: a power cell, power lines

Informal

of, for, or signifying persons in business or politics who are regarded as powerful: a power lunch, a power suit
---
power
noun
a. The ability or capacity to act or do something effectively: Is it in your power to undo this injustice?

b. often powers A specific capacity, faculty, or aptitude: her powers of concentration.

a.

Physical strength or force exerted or capable of being exerted:

the power of the waves.

See Synonyms at

strength

.

b. Effectiveness at moving one's emotions or changing how one thinks: a novel of great power.

a. The ability or official capacity to exercise control; authority: How long has that party been in power?

b. The military strength or economic or political influence of a nation or other group: That country projects its power throughout the region.

c. A country, nation, or other political unit having great influence or control over others: the western powers.

a. A supernatural being: the powers of evil.

b. powers Christianity The sixth of the nine orders of angels in medieval angelology.

a. The energy or motive force by which a physical system or machine is operated: turbines turned by steam power; a sailing ship driven by wind power.

b. The capacity of a system or machine to operate: a vehicle that runs under its own power.

c. Electrical or mechanical energy, especially as used to assist or replace human energy.

d. Electricity supplied to a home, building, or community: a storm that cut off power to the whole region.

Physics The rate at which work is done, expressed as the amount of work per unit time and commonly measured in units such as the watt and horsepower.
Electricity

a. The product of applied potential difference and current in a direct-current circuit.

b. The product of the effective values of the voltage and current with the cosine of the phase angle between current and voltage in an alternating-current circuit.

Mathematics

b. The number of elements in a finite set.

Statistics In a statistical test, the probability of correctly rejecting the null hypothesis when it is false.
A measure of the magnification of an optical instrument, such as a microscope or telescope.
Chiefly Upper Southern US A large number or amount. powerful
Archaic An armed force.
adjective
Of or relating to political, social, or economic control: a power struggle; a power base.
Operated with mechanical or electrical energy in place of bodily exertion: a power tool; power car windows.
Of or relating to the generation or transmission of electricity: power companies; power lines.
Informal Of or relating to influential business or professional practices: a pinstriped suit with a power tie; met with high-level executives at a power breakfast.
transitive verb
pow·ered, pow·er·ing, pow·ers
To supply with power, especially mechanical or electrical power.
Origin of power
Middle English
from
Old French
pooir
to be able, power
from
Vulgar Latin
potēre
to be able
from
Latin
potis
able, powerful
; see
poti-
in Indo-European roots.
---
power

Noun
(countable and uncountable, plural powers)
Usage notes
Adjectives often used with "power": electric, nuclear, solar, optical, mechanical, political, absolute, corporate, institutional, military, economic, solar, magic, magical, huge, physical, mental, intellectual, emotional, spiritual, sexual, seductive, coercive, erotic, natural, cultural, positive, negative, etc.
Verb
(third-person singular simple present powers, present participle powering, simple past and past participle powered)
To provide power for (a mechanical or electronic device).

This CD player is powered by batteries.

To hit or kick something forcefully.
Origin
From Middle English poer, from Old French poer, from Medieval Latin *potere, for Latin posse ("to be able"); see potent.
---
power - Computer Definition

The amount of current (I) times the voltage (E) at a given point in a circuit. Power is measured in watts (W), equivalent to joules per second.
Strength or intensity. 3.The rate at which work is performed.
---
---