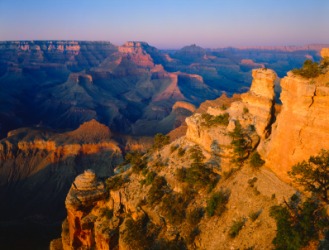 The Grand Canyon is a beautiful sight.
noun
Sight is the ability to see, the act of seeing or something seen.

An example of sight is being able to see well in the darkness.
An example of a sight is a view of the Grand Canyon.
verb
Sight is defined as to see, notice or observe.

An example of to sight is to see land after sailing for a week.
---
sight
something seen; view
a remarkable or spectacular view; spectacle
a thing worth seeing: usually used in pl.: the sights of the city

the act of seeing; perception by the eyes
a view; look; glimpse
[often pl.] any of various devices used to aid the eyes in lining up a gun, optical instrument, etc. on its objective: often used fig., as in the phrase set one's sights on (see phrase below)
aim or an observation taken with mechanical aid, as on a sextant or gun
the faculty or power of seeing; vision; eyesight
mental vision or perception
range or field of vision
mental view; opinion; judgment: a hero in our sight

Informal

any person or thing of a strikingly unpleasant or unusual appearance

Dial.

a large amount; great deal: a sight better than fighting

Obs.

insight
Origin of sight
Middle English
siht
from Old English
(ge)siht
from base of
seon
, to see
to observe or examine by taking a sight
to catch sight of; see
to bring into the sights of a rifle, etc.; aim at

to furnish with sights or a sighting device
to adjust the sights of

to aim (a gun, etc.) using the sights
to take aim or an observation with a sight
to look carefully in a specified direction: sight along the line
read, done, understood, etc. quickly and easily as soon as seen
due or payable when presented: a sight draft
a sight for sore eyes
Informal
a person or thing that is pleasant to see; welcome sight
at first sight
when seen or considered for the first time
at sight
when or as soon as seen

Commerce

upon demand or presentation
by sight
by appearance; by recognizing but not through being acquainted
catch sight of
to make out by means of the eyes; discern; see
to see briefly; glimpse
lose sight of
to fail to keep in sight; see no longer
to fail to keep in mind; forget
out of sight
not in sight
far off; remote

Informal

beyond reach; unattainable; extremely high, as in standards, price, etc.

Slang

excellent; wonderful
out of sight of
not in sight of
not close or near to; remote from
set one's sights on
to aim to achieve or attain: to set your sights on a college diploma
sight unseen
without seeing (the thing mentioned) beforehand
---
sight
noun
a. The ability to see.

b. Field of vision: out of my sight.

a. The act or fact of seeing: hoping for a sight of land; caught sight of a rare bird.

b. Something seen: That bird is a rare sight around here.

c. Something worth seeing; a spectacle: the sights of London.

d. Informal Something unsightly or ridiculous: looked a sight after crossing the swamp.

The foreseeable future; prospect: no solution in sight.
Mental perception or consideration: We lost sight of the purpose of our visit.

a. often sights A device used to assist aim by guiding the eye, as on a firearm or surveying instrument.

b. An aim or observation taken with such a device.
verb
sight·ed, sight·ing, sights
verb
transitive
To perceive with the eyes; get sight of: sighted land after 40 days at sea.
To observe through a sight or an optical instrument: sight a target.
To adjust the sights of (a rifle, for example).
To take aim with (a firearm).
verb
intransitive
To direct one's gaze; look carefully.
To take aim: sighted along the barrel of the gun.
Origin of sight
Middle English
from
Old English
sihth, gesiht
something seen
; see
sekw-
2
in Indo-European roots.
---
sight

Noun
(countable and uncountable, plural sights)
(in the singular) The ability to see.
The act of seeing; perception of objects by the eye; view.

to gain sight of land

Something seen.
Something worth seeing; a spectacle.

You really look a sight in that silly costume!

A device used in aiming a projectile, through which the person aiming looks at the intended target.
A small aperture through which objects are to be seen, and by which their direction is settled or ascertained.

the sight of a quadrant

(now colloquial) a great deal, a lot; frequently used to intensify a comparative.

a sight of money
This is a darn sight better than what I'm used to at home!

In a drawing, picture, etc., that part of the surface, as of paper or canvas, which is within the frame or the border or margin. In a frame, the open space, the opening.
Mental view; opinion; judgment.

In their sight it was harmless.
Verb
(third-person singular simple present sights, present participle sighting, simple past and past participle sighted)
To register visually.
To get sight of (something).

to sight land from a ship

To apply sights to; to adjust the sights of; also, to give the proper elevation and direction to by means of a sight.

to sight a rifle or a cannon

To take aim at.
Origin
Old English sihþ ("something seen").
---