noun
The definition of a view is a range of sight, what is being seen or an opinion.

An example of view is being able to see a car parked across the street.
An example of a view is a beautiful sunset from the top of a mountain.
An example of a view is someone thinking foreign cars are superior to American made cars.
verb
To view means to look at.

An example of to view is checking out the shoes someone is wearing.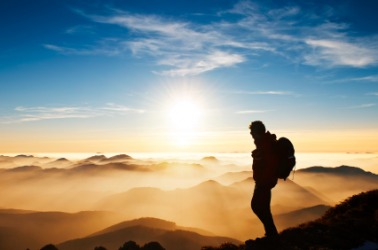 A hiker enjoys a beautiful view.
---
view
noun
a seeing or looking, as in inspection or examination
sight or vision; esp., range of vision: not a person in view
mental examination or survey; critical contemplation: to take a correct view of a situation
that which is seen; esp., a scene or prospect, as of a landscape: a room with a view
a picture, sketch, or photograph of a scene, esp. of a landscape
visual appearance or aspect of something
manner of regarding or considering something; judgment; opinion: one's views on a matter
that which is worked toward or sought; object; aim; goal: to have a view to bettering one's condition
a general survey or summary

Law

a formal inspection made by a jury outside of court, as at the scene of a crime or accident
Origin of view
Middle English
vewe
; from Old French
veue
; from
veoir,
to see ; from Classical Latin
videre:
see vision
transitive verb
to inspect; scrutinize
to look at or see; behold
to survey mentally; consider
to regard in a particular way: to view a situation with fear
in view
in sight
under consideration
in mind or memory
as an end or object aimed at
in expectation: said as of a hope or wish
in view of
in consideration of; because of
on view
displayed or exhibited publicly
with a view to
with the purpose of
with a hope of; looking forward to
---
view
noun
a. An examination using the eyes; a look: used binoculars to get a better view.

b. Field of vision: The aircraft has disappeared from view.

a. A scene or vista: the view from the tower.

b. A way of showing or seeing something, as from a particular position or angle: a side view of the house.

An individual and personal perception, judgment, or interpretation; an opinion: In his view, aid to the rebels should be suspended.

a. An aim or intention: The law was written with a view toward safeguarding privacy.

b. Consideration or concern: "The pitch of the roof had been calculated with a view to the heavy seasonal rains" (Caroline Alexander).

c. Expectation or likelihood: The measure has no view of success.
transitive verb
viewed
,
view·ing
,
views
a. To look at, examine, or inspect: viewed the stars through the telescope.

b. To watch (a program, for example) on television.

a. To survey or study mentally; consider: When you view all their suggestions, you have to feel encouraged.

b. To think of (something) in a particular way; regard:

doesn't view herself as a success; viewed their efforts unfavorably.

See Synonyms at

see1

.
Origin of view
Middle English
vewe
, from Anglo-Norman, from feminine past participle of
veoir
,
to see
, from Latin
vidēre
; see
weid-
in Indo-European roots.
Related Forms:
---
view
Noun
(plural views)
Something to look at, such as scenery.

My flat has a view of a junkyard.
the view from a window

A way of understanding something, an opinion, a theory.

Your view on evolution is based on religion, not on scientific findings.

A point of view.

From my view that is a stupid proposition.

(computing, databases) A virtual or logical table composed of the result set of a query in relational databases.
(computing, programming) The part of a computer program which is visible to the user, the part the user interacts with; a user interface to the underlying logic of the program.
A wake.
Verb
(third-person singular simple present views, present participle viewing, simple past and past participle viewed)
To look at.

He viewed the painting and praised the artist for his masterpiece.

To show.

To view the desktop, click the small desktop icon on the bottom of your screen.
Origin
From Anglo-Norman vewe, from Old French veue (French: vue), feminine past participle of veoir ("to see") (French: voir).
---
view - Computer Definition
(1) To display and look at data on screen.
(2) In relational database management, a special display of data, created as needed. A view temporarily ties two or more files together so that the combined files can be displayed, printed or queried; for example, customers and orders or vendors and purchases. Fields to be included are specified by the user. The original files are not permanently linked or altered; however, if the system allows editing, the data in the original files will be changed.
---
view - Legal Definition
n
An unobstructed look out of the windows of a dwelling.
An urban encumbrance prohibiting the building of anything that would obstruct a person's view from his or her window.
A jury's trip to a crime scene or other location thought necessary to see the physical particulars of the case before it that might not be capable of being observed in the courtroom.
A lineup. See also lineup.
---