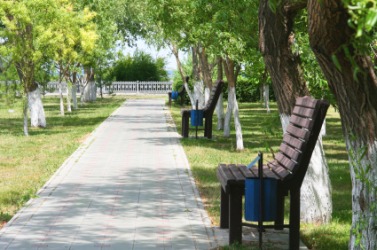 Benches beside an avenue.
noun
Avenue is defined as a way to approach some problem or task.

An example of an avenue to writing a paper is writing an outline first.

The definition of an avenue is a street or thoroughfare that is generally wide and that is sometimes lined with shrubs or trees.

The major streets in New York City are examples of avenues.
---
avenue
a roadway, pathway, or drive, often bordered with trees

Brit.

such a roadway, etc. leading from the main road to the house on an estate

a way of approach to something: books are avenues to knowledge
a street, esp. a wide, principal one; often, one running at right angles to others called "streets"
Origin of avenue
French from
avenir
, to happen, come from Classical Latin
advenire
: see advent
---
avenue
noun
Abbr. Ave. or Av. A wide street or thoroughfare.

a. A broad roadway lined with trees.

b. Chiefly British The drive leading from the main road up to a country house.

A means of access or approach: new avenues of trade.
Origin of avenue
French
from
Old French
arrival
from
feminine past participle of
avenir
to approach
from
Latin
advenīre
to come to
; see
advent
.
---
avenue

Usage notes
Sometimes used interchangeably with other terms such as street. When distinguished, an avenue is generally broad and tree-lined. Further, in many American cities laid out on a grid, notably Manhattan, streets run east-west, while avenues run north-south.
In French traditionally used for routes between two places within a city, named for the destination (formally where it is coming from), as in the archetypal Avenue des Champs-Elysées. This distinction is not observed in English, where names such as "Fifth Avenue" are common.
---