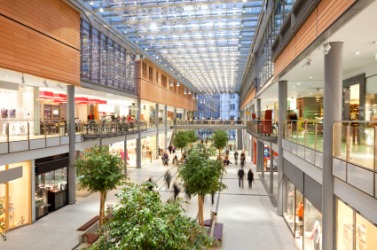 A modern shopping mall.
---
mall
noun
Archaic

a large, heavy mallet, used to strike the ball in the game of pall-mall

Origin of mall

< pall-mall the game itself
a lane or alley where the game was played

a shaded walk or public promenade
☆

a street for pedestrians only, with shops on each side, and often with decorative plantings, benches, etc.
a completely enclosed, air-conditioned shopping center like this

a median strip
Origin of mall
variant, variety of maul, especially associated, association in 17th circa with (pall)-mall
---
mall
noun
A large, often enclosed shopping complex containing various stores, businesses, and restaurants usually accessible by common passageways.
A street lined with shops and closed to vehicles.
A shady public walk or promenade.
Chiefly Upstate New York See median.
Origin of mall
After
The Mall
,
in London, England, originally a pall-mall alley
.
---
mall
Noun
(plural malls)
A heavy blow.

An old game played with malls or mallets and balls. See pall mall.

A place where the game of mall was played.
A public walk; a level shaded walk.
(US, Australia) A pedestrianised street, especially a shopping precinct.

pedestrian mall

An enclosed shopping centre.
Verb
(third-person singular simple present malls, present participle malling, simple past and past participle malled)
To build up with the development of shopping malls.
(informal) To shop at the mall.
Origin
From Old French mail
---