noun
The definition of a market is a place where you go to buy things or a demand for a particular item.

An example of a market is a grocery store or a farmer's market where stands are set up and fruits and vegetables are sold.
An example of a market is the demand for computers.
verb
To market is defined as to promote something for sale.

An example of market is when you create a commercial for a product you are trying to sell.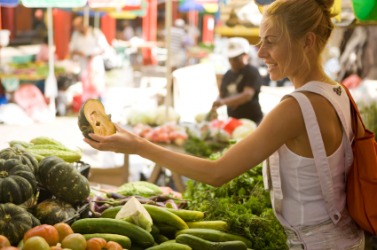 A woman shopping at a farmers market.
---
market definition by Webster's New World
noun
a gathering of people for buying and selling things, esp. provisions or livestock
the people gathered
the time of such a gathering

an open space or a building where goods are shown for sale, usually with stalls or booths for the various dealers
a store or shop for the sale of provisions: a meat market
a region in which goods can be bought and sold: the Asian market

buying and selling; trade in goods, stocks, etc.: an active market
trade in a specified commodity: the wheat market
a place where such trade is carried on
the group of people associated in such trade

stock market
opportunity to sell, or demand (for goods or services): a good market for new products
opportunity to buy, or supply (of goods or services): reduced labor market

market price
market value
Origin: Middle English ; from Norman French ; from Classical Latin mercatus, trade, marketplace, past participle of mercari, to trade ; from merx (gen. mercis), wares, merchandise ; from uncertain or unknown; perhaps Indo-European base an unverified form mer-, to seize
transitive verb
to send or take to market
to offer for sale
to sell
intransitive verb
to deal in a market; buy or sell
to buy provisions for the home
---
market definition by American Heritage Dictionary
noun
A public gathering held for buying and selling merchandise.
A place where goods are offered for sale.
A store or shop that sells a particular type of merchandise: a vegetable market.

a. The business of buying and selling a specified commodity: the soybean market.

b. A market price.

c. A geographic region considered as a place for sales: grain for the foreign market; the West Coast market.

d. A subdivision of a population considered as buyers: cosmetics for the upscale market.

The opportunity to buy or sell; extent of demand for merchandise: a big market for gourmet foods.

a. An exchange for buying and selling stocks or commodities: securities sold on the New York market.

b. The entire enterprise of buying and selling commodities and securities: The market has been slow recently.
verb
mar·ket·ed
,
mar·ket·ing
,
mar·kets
verb
, transitive
To offer for sale.
To sell.
verb
, intransitive
To deal in a market.
To buy household supplies: We marketed for a special Sunday dinner.
Origin: Middle English, from Old North French, from Vulgar Latin *marcātus, from Latin mercātus, from past participle of mercārī, to buy, from merx, merc-, merchandise.
The American Heritage® Dictionary of the English Language, 4th edition Copyright © 2010 by Houghton Mifflin Harcourt Publishing Company. Published by Houghton Mifflin Harcourt Publishing Company. All rights reserved.
---
market - Phrases/Idioms
in the market
Interested in buying:
We are in the market for a used car.
on the market
Available for buying:

Many kinds of seasonal flowers are on the market.

Up for sale:

They put the family business on the market.