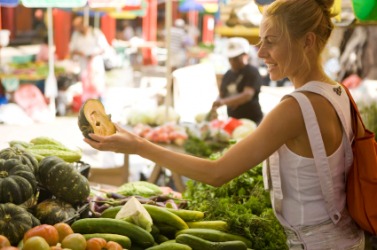 A woman shopping at a farmers market.
noun
The definition of a market is a place where you go to buy things or a demand for a particular item.

An example of a market is a grocery store or a farmer's market where stands are set up and fruits and vegetables are sold.
An example of a market is the demand for computers.
verb
To market is defined as to promote something for sale.

An example of market is when you create a commercial for a product you are trying to sell.
---
market
a gathering of people for buying and selling things, esp. provisions or livestock
the people gathered
the time of such a gathering

an open space or a building where goods are shown for sale, usually with stalls or booths for the various dealers
a store or shop for the sale of provisions: a meat market
a region in which goods can be bought and sold: the Asian market

buying and selling; trade in goods, stocks, etc.: an active market
trade in a specified commodity: the wheat market
a place where such trade is carried on
the group of people associated in such trade

stock market
opportunity to sell, or demand (for goods or services): a good market for new products
opportunity to buy, or supply (of goods or services): reduced labor market

market price
market value
Origin of market
Middle English from Norman French from Classical Latin
mercatus
, trade, marketplace, past participle of
mercari
, to trade from
merx
(gen.
mercis
), wares, merchandise from uncertain or unknown; perhaps Indo-European base an unverified form
mer?-
, to seize
to send or take to market
to offer for sale
to sell
to deal in a market; buy or sell
to buy provisions for the home
be in the market for
to be seeking to buy or obtain
---
market
noun
a. A public gathering held for buying and selling goods or services: a weekly flower market.

b. An open space or a building where goods or services are offered for sale by multiple sellers: bought the chair at the downtown antiques market.

c. A store or shop that sells agricultural produce: bought vegetables from the corner market.

a. A system of exchange in which prices are determined by the interaction of multiple, competing buyers and sellers: an electronic market for trading pollution credits.

b. A similar system in which information or ideas are evaluated by multiple competing interests.

a. The buyers and sellers for a particular good or service or within a particular region: recent college graduates entering the US labor market.

b. The business transacted between such sellers and buyers: a slump in the housing market.

c. The price of a particular good or service as determined by supply and demand: The gold market climbed for the fifth straight day.

d. The demand for a particular commodity: a big market for denim; a growth market.

A standing commitment to buy and sell a given security at stated prices: a brokerage that made a market in the company's stock.
A subdivision of a population considered as consumers: targeting the teen market; a new product for the West Coast market.
The market price: executed the sale at market.
verb
mar·ket·ed, mar·ket·ing, mar·kets
verb
transitive
To offer for sale: merchants marketing their wares in the souk.
To try to make (a product or service) appealing to particular groups of consumers; promote by marketing.
verb
intransitive
To deal in a market; engage in buying or selling.
To buy household supplies: We marketed for a special Sunday dinner.
Origin of market
Middle English
from
Old North French
from
Vulgar Latin
marcātus
from
Latin
mercātus
from
past participle of
mercārī
to buy
from
merx
merc-
merchandise
---
market

Noun
(plural markets)
City square or other fairly spacious site where traders set up stalls and buyers browse the merchandise.
An organised, often periodic, trading event at such site.

The privilege to hold a weekly market was invaluable for any feudal era burgh.

A group of potential customers for one's product.

We believe that the market for the new widget is the older homeowner.

A geographical area where a certain commercial demand exists.

Foreign markets were lost as our currency rose versus their valuta.

A formally organized, sometimes monopolistic, system of trading in specified goods or effects.

The stock market ceased to be monopolized by the paper-shuffling national stock exchanges with the advent of Internet markets.

The sum total traded in a process of individuals trading for certain commodities.
Verb
(third-person singular simple present markets, present participle marketing, simple past and past participle marketed)
To make (products or services) available for sale and promote them.

We plan to market an ecology model by next quarter.

To sell

We marketed more this quarter already then all last year!

(intransitive) To deal in a market; to buy or sell; to make bargains for provisions or goods.
Origin
From Middle English market, from Old English market ("market") and Old Northern French markiet (Old French marchié, modern marché); both ultimately from Latin mercātus ("trade, market"), from mercor ("I trade, deal in, buy"), itself derived from merx ("wares, merchandise"), from the Italic root *merk-, possibly stemming from Etruscan, referring to various aspects of economics. Cognate with Old Frisian merked ("market"), Old High German markat ("market"), Old Norse markaðr ("market").
---