sale

sale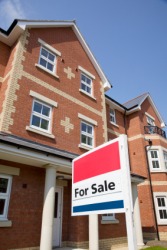 A new house for sale.
noun
Sale is the selling of goods or services, or a discount on the price.

An example of a sale is the selling of a new house.
An example of a sale is a 50% reduction on the price of all jeans at a store.
---
sale
the act or an instance of selling; exchange of property of any kind, or of services, for an agreed sum of money or other valuable consideration
opportunity to sell or be sold; market
the act of offering goods to the highest bidder; auction
a special offering of goods at prices lower than usual
[pl.] receipts in business
[pl.]

the business or work of selling a product or service
the department, as of a company or branch, responsible for this work
Origin of sale
Middle English from Old English
sala
from ON: for Indo-European base see sell
on sale
available for purchase, esp. at a price lower than usual
Salé
city & seaport in NW Morocco: suburb of Rabat
---
sale
noun
a. The exchange of goods or services for an amount of money or its equivalent; the act of selling: The sale of such a nice house should be easy.

b. A selling of property to the highest bidder; an auction.

An offer or arrangement in which goods are sold at a discount: The store has a sale on winter coats.
sales

a. The business or activity of selling goods or services: She works in sales.

b. The number of items sold or the amount of money received for a number of items sold: Sales are better than expected.
Origin of sale
Middle English
from
Old English
sala
from
Old Norse
---
sale

---
sale - Legal Definition
n
A transfer of property or title thereto in exchange for a sum of money; the agreement or contract by which such a transfer takes place. A sale requires a free offer in exchange for a freely agreed-upon purchase price between two individuals who are competent to contract with each other, and who have mutually agreed to the deal. An actual exchange or promised exchange of money is required. Finally, the object, parcel, or title being sold must be capable of being transferred by the seller.
conditional sale
A sale subject to certain events occurring, for example, a transaction to sell one's home, conditioned upon the sale by buyer of his own home.  Also known as contingent sale. 
sheriff's sale
A forced sale of property for which full payment has not been made; proceeds of such sale are remitted to the creditor in full or partial satisfaction of the debt. 
tax sale
A forced sale of assets of a taxpayer to satisfy tax obligations that have not been paid. 
---