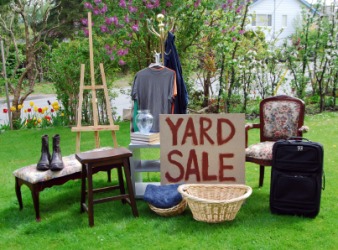 Items set out for a yard sale.
---
yard sale
☆
a sale of used or unwanted possessions, as household articles, often held in the yard of a house
---
yard sale
---
yard sale
Noun
(plural yard sales)
A sale of used household goods held on the seller's own premises.
Verb
(third-person singular simple present yard-sales, present participle yard-saling, simple past and past participle yard-saled)
To sell, or buy, things at a yard sale.
---