seal

seal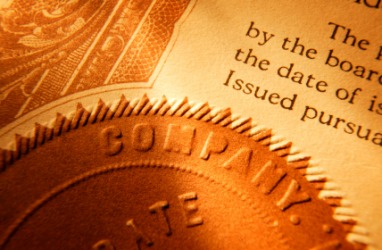 An official seal on a document.
noun
The definition of a seal is a design pressed into wax or a marine mammal that lives and swims in cold waters.

An example of seal is a college's official stamp.
An example of seal is a harp seal.
verb
Seal is defined as to close something shut.

An example of seal is to lick an envelope and close it.
---
seal
a design, initial, or other device placed on a letter, document, etc., as a mark of genuineness or authenticity: letters were, esp. formerly, closed with a wafer of molten wax into which was pressed the distinctive seal of the sender
a stamp, signet ring, etc., or the signet itself, used in making such a design
a wax wafer, piece of paper, etc. bearing the impression of some official design and used as to authenticate a signature or document

something that seals, closes, or fastens tightly or securely; specif., a piece of metal, paper, etc. so placed over a lid, cap, etc. that it must be broken before the container can be opened
a tight closure, as against the passage of air or water

anything that confirms, authenticates, or guarantees; pledge
an indication; sign; token: a handshake as a seal of friendship
the standing water in the trap of a drainpipe, that seals off sewer gases
an ornamental stamp placed on envelopes, packages, etc.: a Christmas seal
Origin of seal
Middle English
seel
from Old French from Classical Latin
sigillum
, a seal, mark, diminutive of
signum
: see sign
to mark with a seal; fix a seal to
to secure the contents of (a letter, envelope, etc.), orig. by closing with a sealed wax wafer, now usually with mucilage, tape, or a gummed flap
to confirm or authenticate (a document, etc.) by marking with a seal
to attest to or confirm the truth or genuineness of (a promise, bargain, etc.)
to certify as being accurate, exact, of a given size, quality, capacity, etc. by fixing a stamp or seal to
to grant, assign, or designate with a seal, pledge, etc.
to settle, determine, or decide finally or irrevocably: to seal one's fate

to close, shut, or fasten with or as with a seal
to close completely so as to make airtight or watertight
to apply a nonpermeable coating to (a porous surface, as of wood) as before painting

Elec.

to bring (a plug and jack) into full, interlocking contact

Law

to bar public examination of: to seal the transcript of the testimony

Mormon Ch.

to solemnize (a marriage) for eternity in a church rite
Origin of seal
ME
selen
< OFr
seeler
< the n.
seal off
to close completely
to enclose or surround (an area, etc.) with barriers, a cordon, etc.
set one's seal to
to mark with one's seal
to endorse; approve
under (one's) seal
in a document authenticated by one's seal
noun
pl.

seals

or
any of two families (Otariidae and Phocidae) of sea carnivores with a doglike head, a torpedo-shaped body, and four webbed feet or flippers: they typically live in cold or temperate waters and usually eat fish

the fur of a fur seal
a similar fur used as a substitute for this

leather made from sealskin
Origin of seal
Middle English
sele
from Old English
seolh
, akin to Old High German
selah
, probably from Indo-European base an unverified form
swelk-
, to pull, draw (with reference to the seal's labored movements on land) from source Classical Latin
sulcus
, furrow

SEAL
noun
pl.
SEALs
a member of a special U.S. Navy combat unit trained for sea, air, or land commando operations
Origin of SEAL
from
sea, air, land team
---
seal
noun
a. A device or material that is used to close off or fasten an opening or connection, especially to prevent the escape of a liquid or gas: used caulk as a seal around the window.

b. An airtight closure: a door that lacks a tight seal.

c. Something, such as a piece of tape, that is placed on a product or package to show that the contents have not been tampered with.

d. The water in the trap of a drain that prevents sewer gas from escaping into a room.

a. A design used to identify a person or thing or to show that something is authentic, accurate, or of good quality: The title page is marked with the publisher's seal. Does the scale have the inspector's seal?

b. A small decorative paper sticker.

a. A die or signet having a raised or incised emblem used to stamp an impression on a receptive substance such as wax or lead.

b. The impression so made.

c. The design or emblem itself, belonging exclusively to the user: a monarch's seal.

d. A small disk or wafer of wax, lead, or paper bearing such an imprint and affixed to a document to prove authenticity or to secure it.

An indication or symbol regarded as guaranteeing or authenticating something: The choral director gave the program his seal of approval.
transitive verb
sealed, seal·ing, seals
a. To close or fasten with a seal: seal an envelope; seal a test tube.

b. To prevent (a liquid or gas) from escaping: Charring a piece of meat seals in the juices.

c. To cover, secure, or fill up (an opening): sealed the hole in the pipe with epoxy.

d. To apply a waterproof coating to: seal a blacktop driveway.

e. To secure or prevent passage into and out of (an area). Often used with off: The police sealed off the crime scene.

To affix a seal to (something) in order to prove authenticity, accuracy, or quality.
To establish or determine irrevocably: Our fate was sealed.
Mormon Church To make (a marriage, for example) eternally binding; solemnize forever.
Origin of seal
Middle English
die or signet for stamping an impression
from
Old French
seel
from
Vulgar Latin
sigellum
from
Latin
sigillum
diminutive of
signum
sign, seal
; see
sekw-
1
in Indo-European roots.
Related Forms:
noun
Any of various aquatic carnivorous mammals of the families Phocidae and Otariidae, found chiefly in cold regions and having a sleek torpedo-shaped body and limbs that are modified into paddlelike flippers.
The pelt or fur of one of these animals, especially a fur seal.
Leather made from the hide of one of these animals.
intransitive verb
sealed, seal·ing, seals
To hunt seals.
Origin of seal
Middle English
sele
from
Old English
seolh
---
seal

Noun
(plural seals)
A pinniped, particularly an earless seal (true seal) or eared seal.

The seals in the harbor looked better than they smelled.
Verb
(third-person singular simple present seals, present participle sealing, simple past and past participle sealed)
(intransitive) To hunt seals.

They're organizing a protest against sealing.
Origin
Middle English sele, from an inflectional form of Old English seolh, from Proto-Germanic *selhaz (compare North Frisian selich, Middle Dutch seel, zēle, Old High German selah, Danish sæl, Middle Low German sale), either from Proto-Indo-European *selk, *solk 'to pull' (compare dialectal English sullow 'plough') or from Finno-Ugric *šülke (compare dialectal Finnish hylki, standard hylje, Estonian hüljes). More at sullow.
Noun
(plural seals)
A stamp used to impress a design on a soft substance such as wax.
An impression of a stamp on wax or paper.
A design or insignia usually associated with an organization or an official role.

The front of the podium bore the presidential seal.

Anything that secures or authenticates.
Something which will be visibly damaged if a covering or container is opened, and which may or may not bear an official design.

The result was declared invalid, as the seal on the meter had been broken.

Confirmation or an indication of confirmation.

Her clothes always had her mom's seal of approval.

Something designed to prevent liquids or gases from leaking through a joint.

The canister is leaking. I think the main seal needs to be replaced.

A tight closure, secure against leakage.

Close the lid tightly to get a good seal.

A chakra.
Verb
(third-person singular simple present seals, present participle sealing, simple past and past participle sealed)
To place a seal on (a document).
To mark with a stamp, as an evidence of standard exactness, legal size, or merchantable quality.

to seal weights and measures; to seal silverware

To fasten (something) so that it cannot be opened without visible damage.

The cover is sealed. If anyone tries to open it, we'll know about it.

To prevent people or vehicles from crossing (something).

The border has been sealed until the fugitives are found.

To close securely to prevent leakage.

I've sealed the bottle to keep the contents fresh.

To place in a sealed container.

I've sealed the documents in this envelope.

(chess) To place a notation of one's next move in a sealed envelope to be opened after an adjournment.

After thinking for half an hour, the champion sealed his move.

To guarantee.

The last-minute goal sealed United's win.

To close by means of a seal.

to seal a drainpipe with water

(Mormonism) To confirm or set apart as a second or additional wife.
Verb
(third-person singular simple present seals, present participle sealing, simple past and past participle sealed)
(dialectal) To tie up animals (especially cattle) in their stalls.
Origin
From Old English sÇ£lan ("to bind").
Acronym
(plural SEALs)
Sea, Air, Land (used as a name of a military unit)
A member of the Navy SEALs.
---
seal - Legal Definition
n
In common law, an impression in wax, wafer, or other substance put on a document and attesting to its authenticity; a similar impression placed over the edge of an envelope, its unbroken condition indicating that the envelope is unopened, hence its contents are untampered with. A corporation's seal is at times called a common seal.
v
the act of placing an impression upon an envelope or document to designate that it is undisturbed, the act of closing. 
---