noun
Varnish is a hard, glossy, resin that you brush on by hand on a surface as a protective coating.

Facts About Varnish

Varnish is made up of a resin that is kept in liquid form by the addition of thinners. It also contains a drying oil that will help it dry when it is spread on the surface where it will be used.
Varnish is always clear.
Varnish produces a hard, glossy surface that is resistant to weather, dirt, and grime and is easy to wipe clean.
Varnish is very flammable. The chemicals in varnish can cause an exothermic reaction, meaning that as they dry, they can produce heat. This can cause rags or other disposed cleaning products to potentially spontaneously combust.
Varnish is not as durable as lacquer in the long run because lacquer contains plastic compounds that will lead to better long term surface protection.
Certain types of varnish, such as marine spar varnish, are especially designed for outside surfaces subjected to severe weather conditions.

An example of varnish is the glossy liquid that you paint onto a tabletop.

Varnish is defined as a smooth manner of a person.

An example of varnish is the fancy quality of an educated gentleman.
verb
To varnish is to brush on a clear protective coating.

An example of to varnish is to finish building a birdhouse and then paint it with clear sealant.

To varnish is defined as to give something or an idea a smooth or polished appearance.

An example of to varnish is to ignore the problems in an organization and only concentrate on the positive aspects, thus making the problems appear to go away.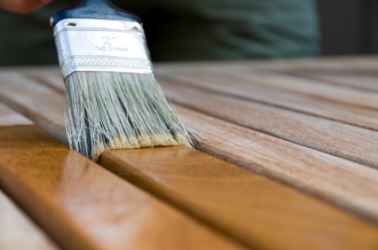 Varnish being applied to wood.
---
varnish definition by Webster's New World
noun
a preparation made of resinous substances dissolved in oil () or in alcohol, turpentine, etc. (), used to give a hard, glossy surface to wood, metal, etc.
any of various natural or prepared products used for the same purpose

the hard, glossy surface produced
a surface gloss or smoothness, as of manner
Origin: Middle English vernisch ; from Old French verniz ; from Midieval Latin veronix, veronice, a resin ; from Classical Greek Berenikē (now Benghazi), ancient city in Cyrenaica
transitive verb
to cover with varnish; brush varnish on
to impart a smooth surface or appearance to, as with varnish
to make superficially attractive or acceptable, as by embellishing
to polish up; adorn
Webster's New World College Dictionary Copyright © 2010 by Wiley Publishing, Inc., Cleveland, Ohio. Used by arrangement with John Wiley & Sons, Inc.
---
varnish definition by American Heritage Dictionary
noun
a. A paint containing a solvent and an oxidizing or evaporating binder, used to coat a surface with a hard, glossy, transparent film.

b. The smooth coating or gloss resulting from the application of this paint.

a. Something suggestive of or resembling varnish.

b. A deceptively attractive external appearance; an outward show.
transitive verb
var·nished
,
var·nish·ing
,
var·nish·es
To cover with varnish.
To give a smooth and glossy finish to.
To give a deceptively attractive appearance to; gloss over.
Origin: Middle English vernisshe, from Old French vernis, from Medieval Latin veronix, vernix, sandarac resin, from Medieval Greek verenikē, from Greek Berenikē, Berenice (Benghazi), an ancient city of Cyrenaica.
Related Forms: