flow

flow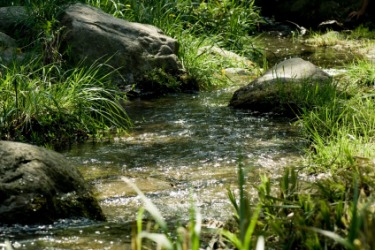 A stream flows through the forest.
noun
The definition of a flow is an act of moving or running smoothly, a movement of water or the continuous moving of ideas, stories, etc.

An example of a flow is a steady movement through the development of a research paper.
An example of a flow is the movement of a stream.
An example of a flow is a class session where students constantly offer input.
verb
To flow is defined as to run or move smoothly.

An example of flow is for a classroom session to run without any problems.
---
flow
to move as a liquid does; move in a stream, like water
to move in a way suggestive of a liquid; stream: crowds flowed past

to move gently, smoothly, and easily; glide
to have smooth and pleasing continuity: the lines in the painting flowed

to stream forth; pour out
to be derived; spring; proceed
to fall in waves; hang loose: her long hair flowed down her back
to come in; rise, as the tide
to be overflowing or plentiful

Geol.

to change in shape under pressure without breaking or splitting, as ice in a glacier or rocks deep in the earth
Origin of flow
Middle English
flouen
from Old English
flowan
, akin to Old Norse
floa
, to flood, Old High German
flouwen
, to wash from Indo-European base an unverified form
pleu-
, to run, flow, fly from source flood, fly, flee, fleet, float, Classical Latin
pluere
, to rain
to overflow; flood

Archaic

to cause to flow
the act or manner of flowing
the rate of flowing
anything that flows; stream or current
a continuous production: a flow of ideas
the rising of the tide
go with the flow
Informal
to conform to or accept, rather than resist, a trend, condition, development, etc.
---
flow
verb
flowed, flow·ing, flows
verb
intransitive
a. To move or run smoothly with unbroken continuity, as in the manner characteristic of a fluid.

b. To issue in a stream; pour forth: Sap flowed from the gash in the tree.

To circulate, as the blood in the body.
To move with a continual shifting of component particles: wheat flowing into the bin; traffic flowing through the tunnel.
To proceed steadily and easily: The preparations flowed smoothly.
To exhibit a smooth or graceful continuity: The poem's cadence flowed gracefully.
To hang loosely and gracefully: The cape flowed from his shoulders.
To rise. Used of the tide.
To arise; derive: Many conclusions flow from this hypothesis.

a. To be abundant; teem: coffers flowing with treasure; wine flowing at the celebration.

b. To move from one place to another in large numbers: Contributions flowed in from all parts of the country.

To menstruate.
To undergo plastic deformation without cracking or breaking. Used of rocks, metals, or minerals.
verb
transitive
To release as a flow: trees flowing thin sap.
To cause to flow: "One of the real keys to success is developing a system where you can flow traffic to yourselves" ( Marc Klee )
noun
a. The act of flowing.

b. The smooth motion characteristic of fluids.

a. A stream or current.

b. A flood or overflow.

c. A residual mass that has stopped flowing: a hardened lava flow.

a. A continuous output or outpouring: a flow of ideas; produced a steady flow of stories.

b. A continuous movement or circulation: the flow of traffic; a flow of paperwork across his desk.

The amount that flows in a given period of time.
The rising of the tide.
Continuity and smoothness of appearance.
A general movement or tendency: a dissenter who went against the flow of opinion.
The sequence in which operations are performed.
An apparent ease or effortlessness of performance: "An athlete must learn to

forget

the details of his or her training to achieve the instinctive sense of flow that characterizes a champion" ( Frederick Turner )
Menstrual discharge.
Origin of flow
Middle English
flouen
from
Old English
flōwan
; see
pleu-
in Indo-European roots.
Related Forms:
---
flow

---
flow - Computer Definition

Movement in a manner suggestive of a liquid. Movement in a smooth and gentle manner, like water in a stream. See also stream-oriented.
---