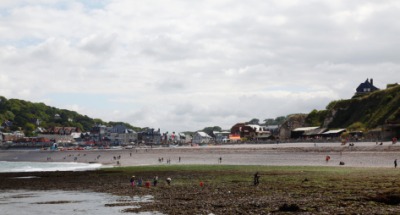 Ebb tide on a French beach.
noun
Ebb is defined as the movement of the tide out to the sea.

An example of ebb is the movement of tide water out to the ocean or sea.
verb
To ebb means to move out further into the sea and further from land or to gradually decline or lessen.

An example of ebb is when a wave moves out to sea.
When you were interested in learning about science but then you began to get bored and your interest lessened, this is a situation where your interest in science began to ebb.
---
ebb
the flow of water back toward the sea, as the tide falls
a weakening or lessening; decline: the ebb of faith
Origin of ebb
Middle English
ebbe
from Old English
ebba
(common LowG, as in Middle Low German
ebbe
from source German
ebbe
, Old Frisian
ebba
) from Germanic an unverified form
abjan
, a going back from Indo-European base an unverified form
apo-
, from, away from from source off
to flow back; recede, as the tide
to weaken or lessen; decline
Origin of ebb
ME
ebben
< OE
ebbian
---
ebb
noun
The receding or outgoing tide, occurring between the time when the tide is highest and the time when the following tide is lowest. Also called ebb tide . Also called falling tide .
A period of decline or diminution: "Insistence upon rules of conduct marks the ebb of religious fervor" ( Alfred North Whitehead )
intransitive verb
ebbed, ebb·ing, ebbs
To fall back from the flood stage.
To fall away or back; decline or recede. See Synonyms at recede 1.
Origin of ebb
Middle English
ebbe
from
Old English
ebba
; see
apo-
in Indo-European roots.
---
ebb

---