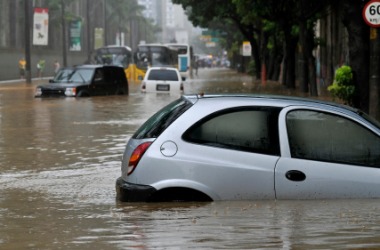 A car submerged in the flood.
noun
The definition of a flood is an overflowing of water onto normally dry land.

An example of flood is a river that overflows into the nearby streets.
An example of flood is a bath tub overflowing onto the floor.
verb
Flood is defined as to overflow, or put too much liquid into something.

An example of flood is covering the lawn with water after leaving the sprinklers on all night.
---
flood
an overflowing of water on an area normally dry; inundation; deluge
the flowing in of water from the sea as the tide rises
a great flow or outpouring: a flood of words

Informal

floodlight

Archaic

water, as opposed to land
a large body of water, as a sea or broad river
Origin of flood
Middle English
flode
from Old English
flod
, akin to German
flut
: for Indo-European base see flow
to cover or fill with or as with a flood; overflow; inundate: rain flooded the valley; music flooded the room
to put much or too much water, fuel, etc. on or in: to flood a carburetor
to rise, flow, or gush out in or as in a flood
to become flooded
the Flood
Bible
the great flood in Noah's time: Gen. 7
---
flood
noun
An overflowing of water onto land that is normally dry.
A flood tide.
A large amount or number, especially when moving from one place to another: received a flood of applications. See Synonyms at flow.
A floodlight, specifically a unit that produces a beam of intense light.
Flood In the Bible, the covering of the earth with water that occurred during the time of Noah.
verb
flood·ed, flood·ing, floods
verb
transitive
To cover or submerge with water; inundate: The town was flooded when the dam burst.
To move into or fill in large numbers or amounts: People flooded the square. His inbox was flooded with mail.
To overwhelm in large numbers: The theater was flooded with ticket requests.
To put too much fuel into the carburetor of (an engine), resulting in unsuccessful ignition.
verb
intransitive
To become inundated or submerged: The underpass floods after a heavy rain.
To pour forth; overflow: The river floods nearly every spring.
Origin of flood
Middle English
flod
from
Old English
flōd
; see
pleu-
in Indo-European roots.
---
flood

---
flood - Computer Definition
---