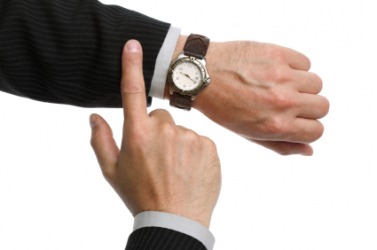 A man checks the time on his watch.
noun
The definition of a watch is a small time piece worn on the wrist or carried in a pocket.

An example of a watch is what someone would wear on their wrist to tell time.
verb
To watch is defined as to stay awake, be alert, observe carefully or look after.

An example of to watch is paying attention to a baby while they play.
---
watch
the act or fact of keeping awake, esp. of keeping awake and alert, in order to look after, protect, or guard

any of the several periods into which the night was divided in ancient times
a part of the night: the still watches of the night

close observation for a time, in order to see or find out something
the act or process of vigilant, careful guarding: to keep watch over a house

a person or group on duty, esp. at night, to protect or guard; lookout or guard

the period of duty of a guard
the post of a guard

a small timepiece designed to be carried in the pocket or worn on the wrist, as a pendant, etc.

Obs.

a vigil; wake
vigilance

Obs.

a candle marked off into sections, used for keeping time

Obs.

a watchman's cry

Meteorol.

an official alert, as by the National Weather Service, that the conditions exist in the area for, variously, a tornado, severe thunderstorm, flash flood, etc., although one has not yet been reported

Naut.

any of the periods of duty (five of four hours, and two of two hours) into which the day is divided on shipboard, so that the work is shared among alternating shifts of the crew
the part of the crew on duty during any such period
Origin of watch
Middle English
wacche
from Old English
wæcce
from base of
wacian
: see wake
to stay awake, esp. at night, so as to pray and meditate
to stay awake and alert at night; care for or guard something at night
to be on the alert; be on the lookout
to look or observe, esp. attentively
to be looking or waiting attentively: with for: to watch for one's chance
to guard
to keep looking at; observe carefully and constantly
to view mentally; keep informed about
to be on the alert for; wait for and look for: to watch one's chance
to keep watch over or tend (a flock, a baby, etc.)
on the watch
watching; on the lookout, as for some thing or person expected
on someone's watch
during the period that a particular person or group is in charge: unemployment rose on the former mayor's watch
watch oneself
to be careful, cautious, or discreet
watch out
to be alert and on one's guard; be careful
watch over
to protect from harm or danger
---
watch
verb
watched, watch·ing, watch·es
verb
intransitive
To look or observe attentively or carefully; be closely observant: watching for trail markers.
To look and wait expectantly or in anticipation: watch for an opportunity.
To act as a spectator; look on: stood by the road and watched.
To stay awake at night while serving as a guard, sentinel, or watcher.
To stay alert as a devotional or religious exercise; keep vigil.
verb
transitive
To look at steadily; observe carefully or continuously: watch a parade.
To guard, keep surveillance on, or spy on: watched the prisoner all day; watched the house to see who came and went.
To observe the course of mentally; keep up on or informed about: watch the price of gold.
To pay close attention to or be careful about, especially with regard to propriety: watched his manners.
To tend or take care of (children or a flock of sheep, for example). See Synonyms at tend2.
noun
The act or process of keeping awake or mentally alert, especially for the purpose of guarding.

a. The act of observing closely or the condition of being closely observed; surveillance.

b. A period of close observation, often in order to discover something: a watch during the child's illness.

A person or group of people serving, especially at night, to guard or protect.
The post or period of duty of a guard, sentinel, or watcher.
Any of the periods into which the night is divided; a part of the night.
Nautical

a. Any of the periods of time, usually four hours, into which the day aboard ship is divided and during which a part of the crew is assigned to duty.

b. The members of a ship's crew on duty during a specific watch.

c. A chronometer on a ship.

a. A period of wakefulness, especially one observed as a religious vigil.

b. A funeral wake.

A small portable timepiece, especially one worn on the wrist or carried in the pocket.
A flock of nightingales.
Phrasal Verbs:
watch out
To be careful or on the alert; take care.
watch over
To be in charge of; superintend.
Origin of watch
Middle English
wacchen
from
Old English
wæccan
to watch, be awake
; see
weg-
in Indo-European roots.
---
watch

Noun
(plural watches)
A portable or wearable timepiece.

More people today carry a watch on their wrists than in their pockets.

The act of guarding and observing someone or something.
A person or group of people who guard.

The watch stopped the travelers at the city gates.

The post or office of a watchman; also, the place where a watchman is posted, or where a guard is kept.
(nautical) A group of sailors and officers aboard a ship or shore station with a common period of duty: starboard watch, port watch.
(nautical) A period of time on duty, usually four hours in length; the officers and crew who tend the working of a vessel during the same watch. (FM 55-501).
The act of seeing, or viewing, for a period of time.
Origin
As a noun, from Middle English wacche, from Old English wæċċe. See below for verb form.
Verb
(third-person singular simple present watches, present participle watching, simple past and past participle watched)
To look at, see, or view for a period of time.

Watching the clock will not make time go faster.
I'm tired of watching TV.

To observe over a period of time; to notice or pay attention.

Watch this!
Put a little baking soda in some vinegar and watch what happens.

To mind, attend, or guard.

Please watch my suitcase for a minute.
He has to watch the kids that afternoon.

To attend to dangers to or regarding.

Watch your head.; Watch your step.
Watch yourself when you talk to him.
Watch what you say.

(intransitive) To be vigilant or on one's guard.

For some must watch, while some must sleep: So runs the world away.

(intransitive) To act as a lookout.
(nautical, of a buoy) To serve the purpose of a watchman by floating properly in its place.
Usage notes
When used transitively to mean look at something, there is an implication that the direct object is something which is capable of changing.
Origin
As a verb, from Middle English wacchen, from Old English wæċċan (from the same root as its synonym and doublet wacian, which lead to wake in modern English), ultimately from Proto-Germanic *wakōnÄ…, *wakjanÄ…. Cognate with West Frisian weitsje ("to wake, watch"), Dutch waken ("to wake, watch"), German wachen ("to wake, watch").
---