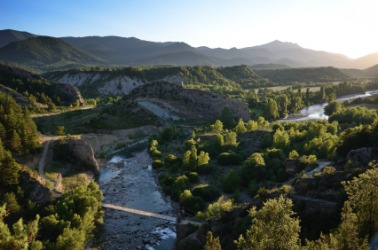 This vantage point overlooks a beautiful valley.
noun
The definition of an overlook is a high place that provides a view of the surroundings.

An example of an overlook is a cliff above a valley.
verb
To overlook is defined as to look at from a high place, or to miss something by mistake or on purpose.

An example of to overlook is to view a valley from the top of a cliff.
An example of to overlook is to not count one absence by a student.
---
overlook
to look at from above
to give a view of from above
to rise above; overtop

to look over or beyond and not see; fail to notice
to ignore; neglect

to pass over indulgently; excuse

to oversee; supervise

Now Rare

to inspect; look over

Archaic

to bewitch by looking at
a height from which to view surroundings
---
overlook
transitive verb
o·ver·looked, o·ver·look·ing, o·ver·looks
a. To look over or at from a higher place: We overlooked the valley from the cliff.

b. To afford a view over: The tower overlooks the sea.

a. To fail to notice or consider; miss: Even the editor overlooked this error.

b. To ignore deliberately or indulgently; disregard: I'll overlook that remark if you leave now.

Archaic

a. To look over; examine: overlook a manuscript for errors.

b. To manage; supervise: overlook farm hands.
noun
An elevated place that affords an extensive view: a scenic overlook.
---
overlook

Verb
(third-person singular simple present overlooks, present participle overlooking, simple past and past participle overlooked)
To look down upon from a place that is over or above; to look over or view from a higher position; to rise above, so as to command a view of

to overlook a valley from a hill

Hence: To supervise; to watch over; sometimes, to observe secretly

to overlook a gang of laborers; to overlook one who is writing a letter

To inspect; to examine; to look over carefully or repeatedly.
To look upon with an evil eye; to bewitch by looking upon; to fascinate.
To fail to notice; to look over and beyond (anything) without seeing it; to miss or omit in looking.
To pretend not to have noticed, especially a mistake; to pass over without censure or punishment.
Origin
From over- +"Ž look.
---